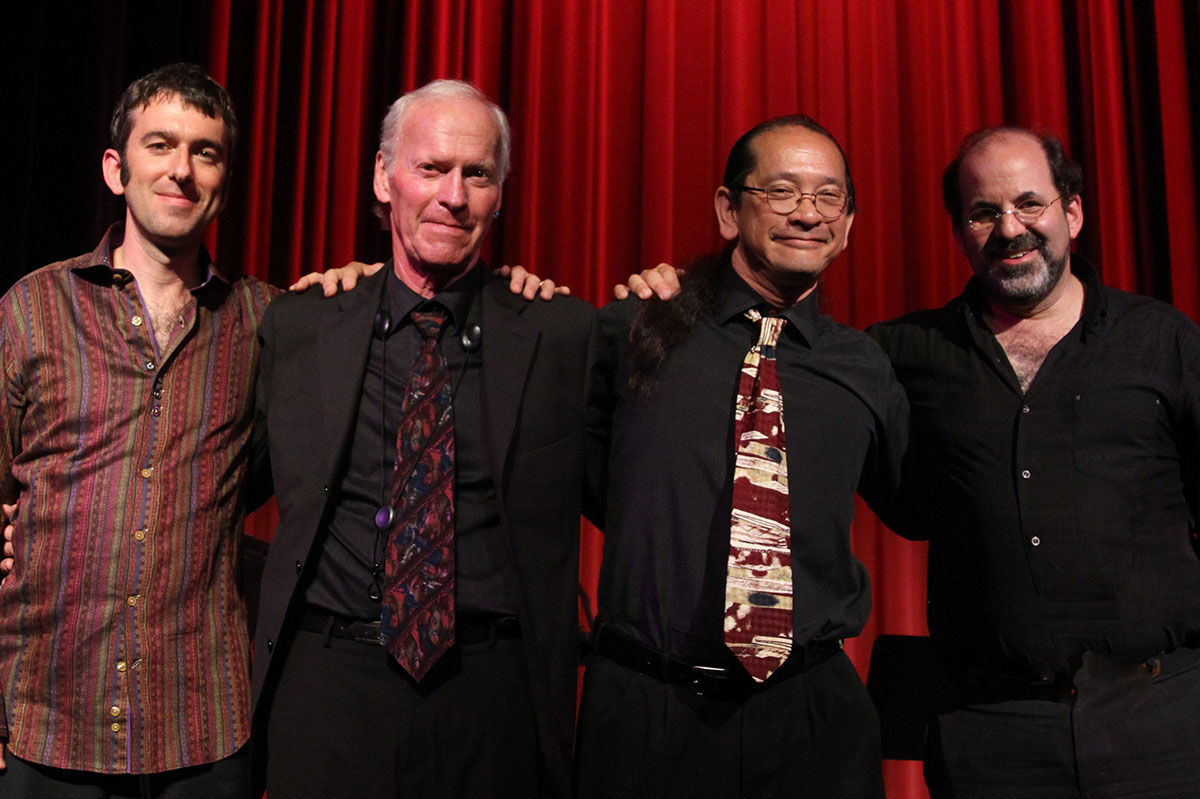 03 Apr

Paul McCandless with Charged Particles at Nisvville 2020
Founder of "Oregon" comes in Serbia
Paul McCandless with Charged Particles at Nisvville 2020
In support of two new CD releases, GRAMMY winner and world-renowned jazz superstar Paul McCandless and the Bay-Area Jazz Trio Charged Particles (Murray Low- keyboards, Aaron Germain – basses and Jon Krosnick – drums) will be touring during 2020, 2021, and beyond. They are going to perform at Nisville 2020, at August 13th.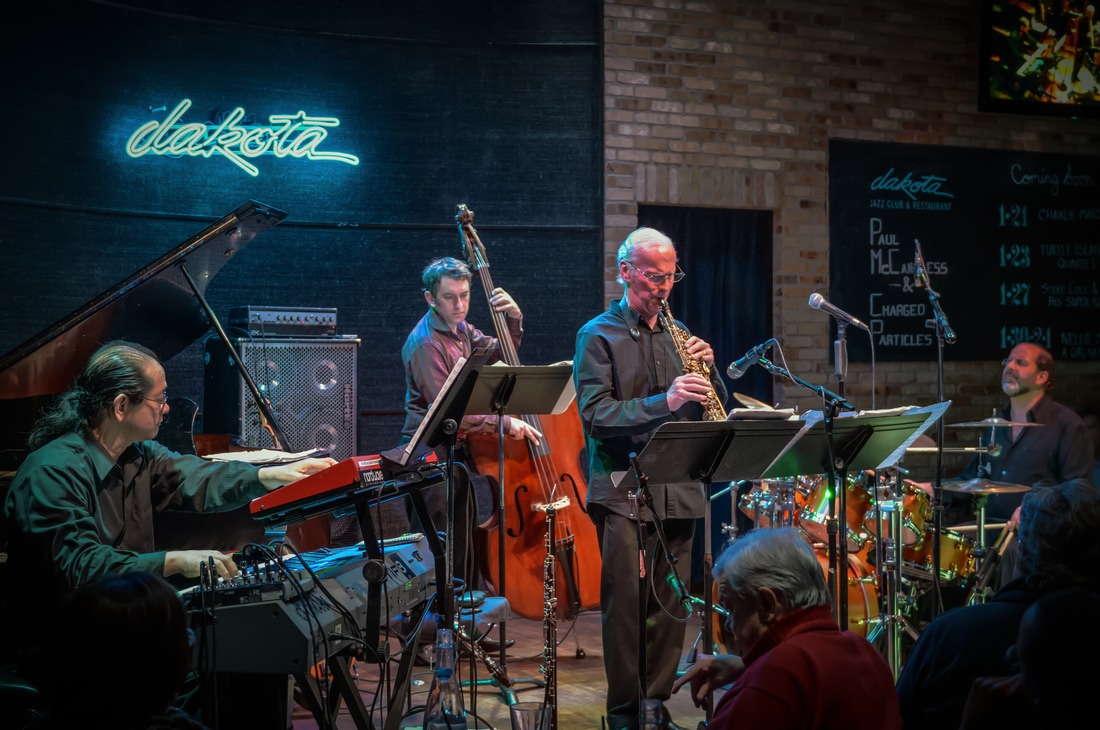 Known for soaring lyricism and gorgeous compositions, McCandless recently celebrated his 47th anniversary as co-leader of the jazz super-group Oregon. McCandless plays soprano, tenor, and sopranino saxophones, oboes, English horn, bass clarinet, penny whistles, and a collection of folk flutes. As a leader, McCandless has released 40 records.
One of the new CD releases is "Morning Sun – Adventures with Oboe" (Living Music Records, LMU-49), billed as "A Retrospective Celebrating 45 Years of Genre-Bending Iconic Mastery" by McCandless in collaboration with his long-time collaborator: Paul Winter. In the 32-page liner notes, Winter said: "With this anthology, I set out to gather a treasury of Paul McCandless' masterful playing. Listing through the entire album, I am thrilled with every note." http://music.paulwinter.com/album/morning-sun-adventures-with-oboe-2
The second CD is the 30th album by Oregon, the super-group that McCandless co-founded, entitled "Lantern" (Camjazz 7916). Downbeat Magazine said of this recording: "an amalgam of sounds and musical attitudes melding earthy tones, sinuous melodies and subtle meters into improvisatory postcards that lure our imaginations from familiar waters into uncharted depths." http://www.camjazz.com/home/8052405142801-lantern-cd.html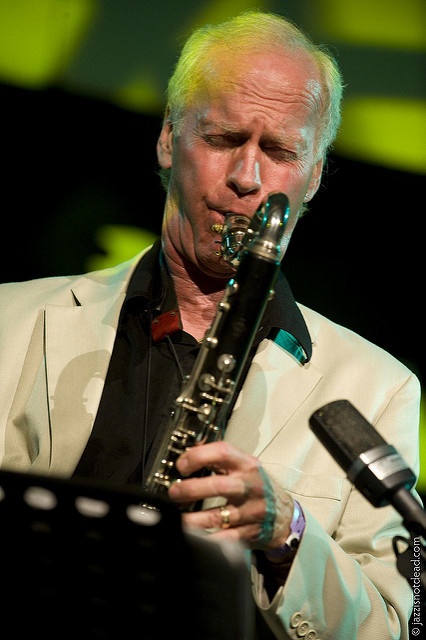 The McCandless/Charged Particles Project
The McCandless/Charged Particles project is bringing alive McCandless' repertoire of original compositions that have been featured on his solo records over the years. This collaboration with Charged Particles showcases music from his records with a fresh twist and new energy.
The group premiered their collaboration on the main stage at the famed jazz club Yoshi's San Francisco in 2014, and their jazz club appearances have included Birdland (New York City), Blues Alley (Washington, DC), the Dakota Jazz Club (Minneapolis), the Deer Head Inn (Pennsylvania), the Falcon (New York), The Ark (Michigan), Nighttown (Cleveland), Jazz Forum Arts (New York), Motion Blue (Jakarta, Indonesia), Jazz Centrum (Surabaya, Indonesia), @America (Jakarta, Indonesia), Music Republican (Jakarta, Indonesia), Sekolah Pelita Harapan (Jakarta, Indonesia), Yardbird Suite (Edmonton, Canada), the Vernon Jazz Club (Vernon, Canada), Ricardo's Kelowna, Canada), Spin Jazz (Oxford, United Kingdom), Birmingham Jazz Club (Birmingham, United Kingdom), Parrjazz (Liverpool, United Kingdom), Band on the Wall (Manchester, United Kingdom), Jazz Hastings (Hastings, United Kingdom), Fouguy Jazz (Torquay, United Kingdom), Spike's Place Jazz Club (Beckenham, United Kingdom), the Harborough Jazz Club (Leicestershire, United Kingdom), and Northern Arts Cultural Center (Yellowknife, Canada). They have headlined festivals such as the Stanford Jazz Festival (California), the San Luis Obispo Jazz Festival (California), the Eureka Springs Jazz Festival (Arkansas), Jazz at Pierson Park (New York), the Erie Blues and Jazz Festival (Pennsylvania), the Portola Vineyards Summer Jazz Concert Series (California), Jazz at the Lake (Lake George, NY), the Jazz Gunung Bromo Festival (Indonesia), the Ambleside Days Jazz Festival (United Kingdom), and the St. Ives Jazz Festival (United Kingdom).
They have taught master classes in schools such as Kelowna Secondary School (Kelowna, Canada), MacEwan University (Edmonton, Alberta, Canada), University of Arkansas (Fayetteville, Arkansas), Royal Northern College of Music (Manchester, UK), Bath Spa University (Bath, UK), They have performed in theaters such as the Musical Instrument Museum (Phoenix) and the Chelmsford Center for the Arts (Massachusetts), The Jazz Club (California), and Soper Reese Theater (California), Peninsula Jewish Community Center (California), and Brookdale Battery Park (New York City), and the Music of the Spheres Concert Series (Mount Hamilton, California), Upcoming performances include Chorus (Lausanne, Switzerland), and Jazz Club Ferrera (Ferrera, Italy), Jazz Festival Steyr (Steyr, Austria), and Amsec (Hagenberg, Austria).
In a review in Downbeat magazine of the quartet's performance at Birdland in New York City, writer Bill Milkowski said the project is "something special" and called the band mesmerizing, sparkling, dramatic, and virtuosic. The music being played traverses a wide range of genres, including swinging jazz, funky fusion-ish tunes, romantic ballads, purely improvised adventures, and original McCandless styles that have no names. Their concerts are a delight for listeners, joining these four musicians as they explore the musical mind of one of today's living geniuses. McCandless fans enjoy hearing him in this new musical setting and are routinely brought to their feet in standing ovations at the ends of the quartet's concerts.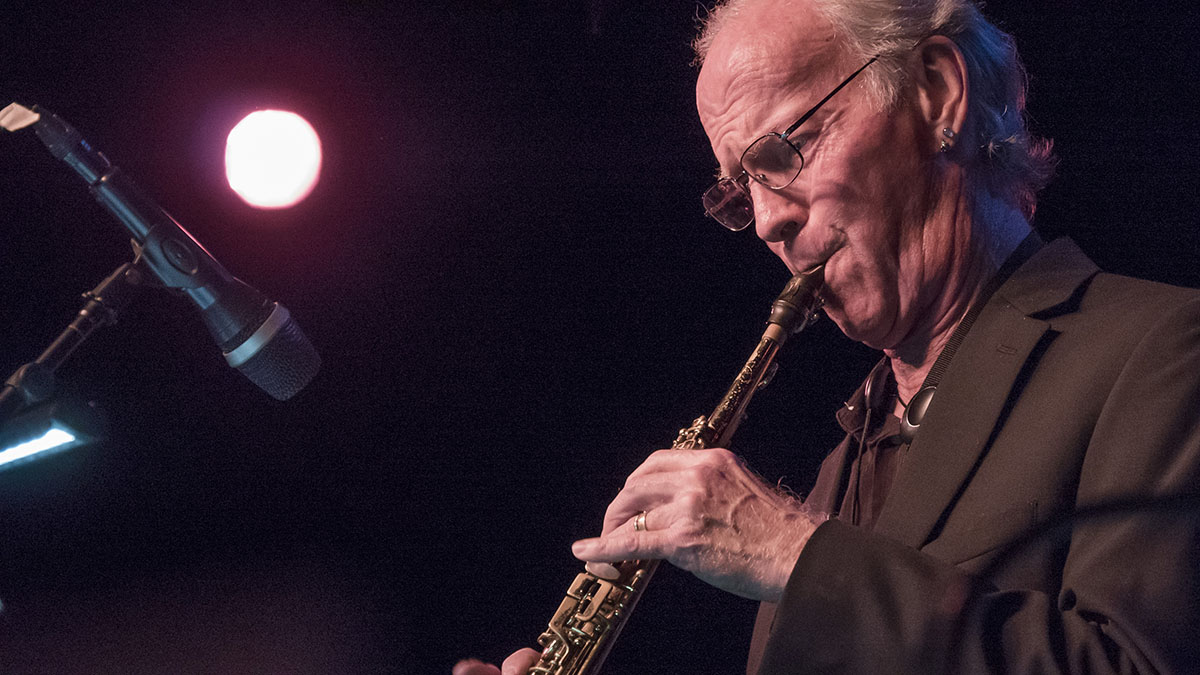 Paul McCandless
During a distinguished career spanning over four decades, Paul McCandless has brought the soaring lyricism in his playing and composing to the ensemble sound of two seminal iconic bands of jazz: the original Paul Winter Consort and the relentlessly innovative quartet, OREGON. Born in 1947 in Indiana, Pennsylvania, and a gifted multi-instrumentalist and composer, Paul specializes in the oboe, English horn, bass clarinet, soprano and sopranino saxophones and a collection of folk flutes reflecting his grounding in both classical and jazz disciplines. Trained at the Manhattan School of Music, he was a finalist in the 1971 English horn auditions for the New York Philharmonic. Today, he says he's lucky not to have won those auditions, because a victory would have pulled him into the world of full-time classical performing, and he would have missed out on the rich life he's had in jazz.
As a collaborator and solo artist, he has performed on more than 200 albums and appeared with such renowned all-star musicians as Pat Metheny, Jaco Pastorius, Wynton Marsalis, Lyle Mays, Mark Isham, Steve Reich, Al Jarreau, Bruce Hornsby, Art Lande, Carla Bley, Tony Furtado, the String Cheese Incident, Nguyen Le, Proteus 7, Fred Simon, and many more. In 1996, Paul won a Grammy for Best Pop Instrumental with Béla Fleck and the Flecktones. He also won Grammys in 2007 and 2011 with the Paul Winter Consort, for Best New Age Album. And Paul's performance on the Oregon CD "1000 kilometers" was nominated for a Grammy for Best Jazz Instrumental Solo in 2009.
Paul's compositions have been featured in a number of film scores. Most notably, he wrote music for the video Squanto and the First Thanksgiving, a Rabbit Ears Production, with Graham Greene as narrator. Three of Paul's orchestral scores are heard on a CD called "Oregon in Moscow", featuring OREGON and the Moscow Tchaikovsky Orchestra. "Round Robin," the opening track, received two 2001 Grammy nominations for Best Instrumental Composition and Best Instrumental Arrangement. And amidst his years as a jazz artist, he has remained active in the classical world as well. As an orchestral soloist, he has performed with the Camerata Chamber Orchestra of Mexico City, the St. Paul Chamber Orchestra, and the Philadelphia, Buffalo, Los Angeles, and Stuttgart Symphony Orchestras.
Over the years, he has released a series of records of his own compositions with bands he led: "All the Mornings Bring" (1978, Elektra/Asylum Records), "Heresay" (1988, Windham Hill Records), "Navigator" (1981, Landslide Records), and "Premonition" (1992, Windham Hill Records).
With Oregon, Paul has recorded a stunning 28 albums and CDs, in addition to 7 records and CDs with Paul Winter.
In 1985, McCandless toured Europe with bassist Barre Phillips and German clarinetist Theo Jorgensmann. He has been a guest musician with Béla Fleck and the Flecktones (appearing on the 2002 album Live at the Quick) and has toured with tabla artist Sandip Burman. He also was a guest of Leftover Salmon and the String Cheese Incident multiple times in the late 1990s. He has appeared on stage in duets with pianist Art Lande and recorded the CD entitled "Skylight" with him for ECM Records.
Paul was a featured soloist alongside Pat Metheny and Gary Burton in "The Great Jubilee Concert", a huge tribute event in Theaterhaus Stuttgart, in 2015, by the SWR Big Band celebrating the music and the career of the legendary German bassist Eberhard Weber. The event was encapsulated on the CD "Hommage a Eberhard Weber" (2015, ECM Records). Paul appears on two of Weber's CDs as a leader.
Visit: www.paulmccandless.com.
Charged Particles
Celebrating their 28th anniversary, Charged Particles features three of the country's virtuosos playing jazz while crossing stylistic boundaries and blending diverse traditions to create engaging new sounds.
Murray Low is a keyboard wizard with dazzling Latin-jazz technique and imaginative improvisational skills. Aaron Germain is an inventive and sophisticated acoustic and electric bassist. Along with fiery drummer Jon Krosnick, these players are making some of the most electrifying jazz in the country today. The trio's repertoire blends jazz with elements of Latin music, funk, classical music, and other genres. The group's original compositions are mixtures of complex orchestration and elaborate improvised solos. The band brings a similar approach to playing arrangements of tunes by other jazz artists and traditional jazz standards by the composers of America's most popular songs from decades ago, each played with a new twist. All of the trio's music has a distinctly acoustic sensibility, despite the members playing both electric and acoustic instruments. The group's small size allows for sensitivity and spontaneity among the players, making each performance an enchanting improvisational exploration. The band's energy level is always high, even when they are cooking at a volume no louder than a whisper, or floating through the melody of a romantic ballad. Each piece they play brims with the fun the players have together and with the admiration they have for each other. Charged Particles are a treat to hear! Charged Particles made its public debut on National Public Radio Affiliate WDET's live performance program, "Detroit Jazz Alive", originating in Detroit, Michigan. The group's one-hour live performance drew wide attention and opened the door to performances at festivals and clubs around the world. In addition to its own headline performances, the band has opened for national recording artists such as Stanley Jordan, Yanni, and Al DiMeola, and the group has had such international mega-star drummers as Peter Erskine and Dennis Chambers and percussionist Doc Gibbs sit in with them. In 1994, Charged Particles released its first compact disc, on Schoolkids Records. The CD received airplay on over 200 jazz radio stations nation-wide and was praised by national jazz critics in such outlets as Jazziz Magazine, Jazz Times Magazine, Jazz and Blues Report, Pulse! Magazine, and many more. A performance by the group was included on the compilation CD, The Columbus Collection, featuring outstanding jazz artists from Columbus, Ohio, and released in 1996. The group's second CD, "Sparks", was released in late 2002 on BOPO Records, received airplay on nearly 100 radio stations within two weeks of its release, and has gained attention from critics in many American publications and in magazines as far away as England, Denmark, and Japan. "Sparks" was named one of the eight "must-hear" jazz releases of 2002 by The Other Paper, and the opening track from "Sparks" was included on the "Jazziz on Disc" sampler CD mailed to 85,000 subscribers of Jazziz Magazine in March, 2003. After 18 years based in Ohio, Charged Particles was reborn in California in 2011. Highlights for the band in recent years have been a performance on the main stage of Yoshi's San Francisco jazz club accompanying French Vietnamese guitarist Nguyen Le playing his compositions, as well as the performance there with Paul McCandless. Another recent performance included accompanying vocalist Kevyn Lettau singing her compositions in Los Angeles, and performances in the Los Angeles area with guitarist George Benson's musical director, keyboardist David Garfield.
Of the band, reviewers have said: "An electrifying, push-the-limits performance style… A tight and enormously talented trio." (Jazz Times Magazine), "Charged Particles is definitely dazzling." (Jazz and Blues Report), "Fresh, energized contemporary jazz that showcases the trio's individual technical mastery as well as a cooperative, refined approach to the art form." (Jazz News Magazine), and "Tight interplay was the watchword as the threesome took difficult fusion themes and applied its own twists with spark and personal flair." (Los Angeles Times).
Recent appearances by Charged Particles include such prestigious jazz clubs as Yoshi's in San Francisco, Vitello's in Los Angeles, Café Cordiale in Sherman Oaks, and the historic Lighthouse in Redondo Beach. The group's hundreds of other appearances include the Houston International Jazz Festival, the John F. Kennedy Center in Washington, DC, the Orange County Arts and Jazz Festival, the Midwest Jazz Heritage Festival, the Trenton Jazz Festival, the King Cobra Jazz Festival, and a tour of Sweden.
The newest innovations for the band are collaborations performing with powerhouse vocalist Rocío Guitard, and with Bay Area Tenor Saxophonist Tod Dickow playing the music of Michael Brecker.
Visit: www.chargedparticles.com
Murray Low
Murray Low is a veteran pianist of the Bay Area jazz scene and has been playing, composing, arranging, recording and teaching professionally for over thirty years. His fluency in all forms of jazz and its blending with other idioms has led to a multi-faceted career spanning a wide variety of musical contexts. Murray is best known for his contributions to Latin Jazz, Salsa and Afro-Cuban musical landscape. In his twenty-two years of involvement he has established himself as one of the premier pianists in that genre, being nominated as 2008 Pianist of the Year by the Latin Jazz Corner and for a Grammy in 2004 as part of Machete Ensemble. He is or has been the regular pianist/collaborator with several top Bay Area ensembles including Wayne Wallace's Quintet, John Calloway's Diaspora, Jesus Diaz y su QBA, Pete Escovedo Orchestra, and John Santos' Machete Ensemble. He has also collaborated with Latin Jazz giants Ray Vega, Tito Puente, Poncho Sanchez, Nestor Torres, and Andrea Brachfeld. In 2008 he also performed with famous Cuban flautist Orlando Valle at the Monterey Jazz Festival as part of a specially commissioned project including Jon Benitez, David Sanchez, Horacio "El Negro" Hernandez, and Giovanni Hildalgo. Murray is also actively involved in many first-call Bay Area projects in other jazz idioms including "straight ahead", fusion and free-form styles. His career has included both local and international performances with Bob Mintzer, Clark Terry, Benny Golson, John Patitucci, George Duke, Bob Sheppard, and John Handy. He has performed at major jazz festivals all over the world, including multiple engagements at the Playboy, Monterey, Russian River and San Jose, San Francisco, Mt. Hood, Juan Les Pins and Vienne Jazz festivals, and has appeared on the Vibe and Magic Hour late-night television shows as well. Closer to home, he is the regular pianist/keyboardist for diverse projects such as drummer Wally Schnalle's Jazz Fusion Project, trumpeter John Worley's jazz group Worlview (which recently did a Freddie Hubbard and Birth of the Cool tribute), and many others. As an educator, Murray currently teaches Jazz Piano and Ensemble performance at Stanford University, taught Jazz Theory and Improvisation at U.C. Santa Cruz from 2007- 2009, and was Artist-In-Residence for the renowned Kuumbwa Jazz Center for 2008-2009. He has been a guest lecturer and clinician at several colleges, universities, and high schools throughout California. He also teaches privately and is an active consultant for several musicians in the area, and previously held positions at U.C. Berkeley and the Jazz School. Murray is also actively sought out as a first-rate accompanist, particularly for vocalists. He is the musical director for world jazz vocalists Kat Parra and Alexa Weber Morales. He has successfully collaborated with several notable singers, including Kitty Margolis, Judy Wexler, Ellen Robinson, Jamie Davis, Lichi Fuentes and Anna Estrada. Murray has received various accolades and awards throughout his career, including First Place in the Combo Division at the U.C. Berkeley Jazz Festival, a Grammy nomination for Best Latin Jazz Album, and a Piano Player of the Year nomination from Latin Jazz Corner website. He is often a featured artist with the Stanford Jazz Orchestra and U.C. Santa Cruz Jazz Ensembles.
Aaron Germain
Spending 15 years as a busy "hired gun"" bass player, Aaron Germain has traveled the world and learned from the masters. Growing up in Massachusetts, he cut his teeth playing upright and electric bass in bands playing styles ranging from jazz to blues, funk, reggae, Senegalese mbalax, and more while traveling all around the northeast. Moving to the Bay Area in 2000, his calendar has always been full, and he's expanded his repertoire to include salsa and Afro-Cuban music, Brazilian forro music, Caribbean steel pan music, Indian kathak dance, calypso, and dense odd-meter jazz. Over the years, Aaron has performed with such artists as Yusef Lateef, Stanley Jordon, Andy Narell, Michael Wolff, Tommy Igoe, Bonnie Raitt, Francisco Aquabella, Nguyen Le, Paul McCandless, Scott Hamilton, Tommy Igoe, Alex de Grassi, John Handy, Melba Moore, Mary Wilson, Paula West, Jason Samuel Smith, Tom Coster, Gary Meek, Gene Jackson, Kendra Shank, Gary Versace, John Stowell, Jacqui Naylor, Barry Finnerty, Calvin Keyes, Jeff Massanari, Michael Zilber, Dwight Trible, Eddie Marshal, Art Khu, Dave Ellis, Babatunde Lea, Gordon Stone, Kenny Washington, Josh Jones, Akira Tana, Jamie Davis, and Royal Hartigan. He has performed at venues and in events such as the Blue Note (NYC), Scullers (Boston), The House of Blues (Boston), Blues Alley (Washington DC), Zanzibar Blue (Philadelphia), Yoshi's (SF), Yoshi's (Oakland), The Jazz School (Berkeley), Humphrey's by the Bay (San Diego), The Fillmore (SF), Dakotas (Minneapolis), The Iron Horse (Northampton), Herbst Theatre (SF), Kuumbwa (Santa Cruz), Le Club Jazz (Kyoto), Cafe Yorozuya (Kobe), Z Imagine (Tokyo), Donfan (Tokyo), MEG (Tokyo), Bar T.T. Funk (Tokyo), The San Francisco Jazz Festival, The North Beach Jazz Festival, The Fillmore Jazz Festival, The San Jose Jazz Festival, and the Drumming in the New Millenium Festival in front of the Great Pyramids of Egypt.
Visit: www.aarongermain.com
Jon Krosnick
Jon Krosnick began playing piano at age 6 and drums at age 9. The bulk of his formal musical training took place during ten summers spent at the National Music Camp in Interlochen, Michigan. There, he studied classical percussion and jazz drumming, and he performed with orchestras, concert bands, percussion ensembles, jazz bands, and back-up bands for musical theater performances. Recognizing his accomplishments during those years, Jon was awarded the NMC Jazz Scholarship, and he won the High School Division's Concerto Competition. At Interlochen, Jon studied classical percussion with many noted instructors, including Niel DePonte (Oregon Symphony) and Scott Stevens (Metropolitan Opera Orchestra). While studying classical percussion with Fred Hinger (Metropolitan Opera Orchestra) while in high school, Jon won the Philadelphia Orchestra's Student Concerto Competition and performed with the orchestra. While in college at Harvard, Jon played with the Harvard Orchestra and the Bach Society Orchestra, and he was the principal percussionist with the M.I.T. Symphony Orchestra. He traveled with the Harvard Orchestra to Germany to perform in the Herbert von Karajan Orchestra Competition. With the M.I.T. Symphony, he toured the east coast and performed on their recordings of contemporary classical works. Also during his high school and college years, Jon led a parallel career as a jazz drummer. He studied with Dixieland expert Hy Frank, as well as with Peter Erskine, one of the most celebrated drummers on the contemporary international jazz scene. He performed in small jazz groups, such as the New Jazz Sextet, Silver Sax, and the Ferric Fang Quartet, and Brasswind, as well as with the Harvard Jazz Ensemble, Bob Hope, and Doc Severinson. During his graduate school years in Ann Arbor, Michigan, Jon played with the University of Michigan Jazz Ensemble, as well as small pop, rock, and jazz ensembles, including Pangea. Most notable was his ten-year membership in the Lunar Glee Club (later called the Lunar Octet), an award-winning latin/jazz ensemble that has appeared on numerous TV and radio broadcasts, released four recordings, and reunited in 2014 for a 30th anniversary concert to a sold-house, including many luminaries of the Michigan jazz scene and standing ovation. Among the players in the Lunar Octet was a young Craig Taborn, now a celebrated leader in the jazz piano world. Jon also led the Jon Krosnick Quintet, that featured Ron Brooks (who played bass with Bob James), Bill Lucas (now in the trumpet section of the Detroit Symphony), Ned Mann (former bassist with Michel Camilo, Tania Maria, and many others), and David Mann (who has since performed with Tower of Power, James Taylor, and Paul Simon). While in Columbus, Ohio, Jon freelanced with a number of groups and appeared regularly with pianist Geoff Tyus, saxophonist Flip Jackson's Variations, and the jazz-fusion group State of Mind. His playing is also featured on the 1993 CD release by Columbus pianist Bradley Sowash, Out West. As a freelancer in California, Jon played with young trumpet prodigy Geoff Gallante as part of the San Jose Jazz Festival. Jon's playing in Charged Particles reflects his primary influences on the drums: Peter Erskine, Dave Weckl, and Steve Gadd. His drumming style blends incredible technique (developed through his classical training) and a sensitivity to his fellow players with an explosive energy that propels the trio to electrifying velocities. The mixing of Murray's and Aaron's harmonic and melodic talents with Jon's rhythmic vitality sparks many exciting moments during an evening with Charged Particles. Recently, Jon has served as artistic advisor to the Portola Vineyards Summer Jazz Concert Series, the Domenico Winery Winter Jazz Concert Series called "Jazz Uncorked", and the
Connect the Dots Conference at Stanford University, as well as Provinance Vineyards. In addition to his accelerating performing schedule with Charged Particles, Jon performed with Chick Corea and John Patitucci in Lenox, Massachusetts.
Project Website: http://www.chargedparticles.com/with-saxophonist-paul-mccandless.html
Full-length videos: http://www.chargedparticles.com/watch-cp-with-paul-mccandless.html
Charged Particles: www.chargedparticles.com  
Paul McCandless: http://paulmccandless.com/  
https://www.youtube.com/watch?v=hhM20EUjKw0
https://www.youtube.com/watch?v=OgxZVzW1PIo
https://www.youtube.com/watch?v=cdjKo6mSfwk