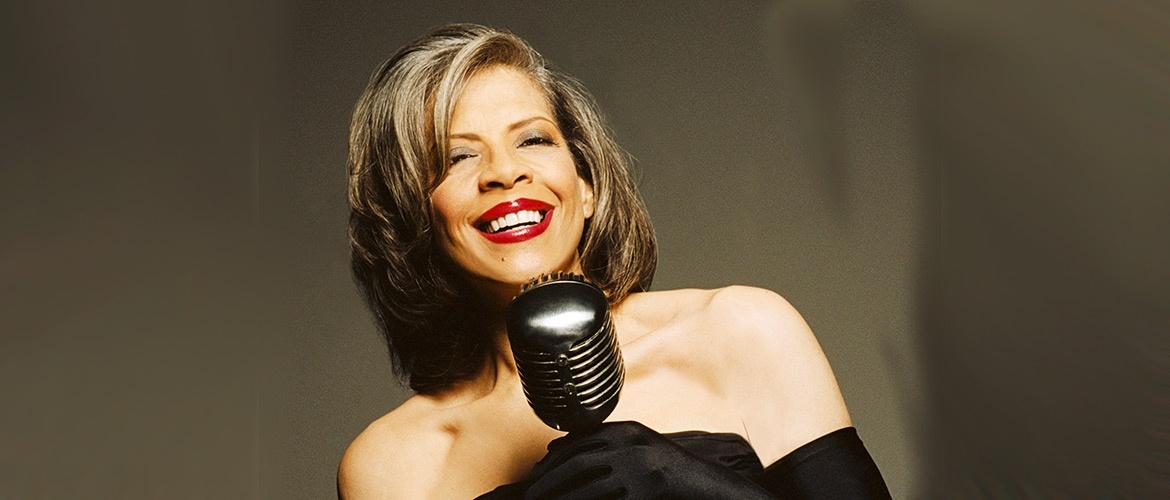 26 May

Patti Austin sings in honor of Ella Fitzgerald

Grammy winner Patti Austin is going to perform at Nisville 207 opening day – August 10th , exactly at her 67 birthday. The performance will be a tribute to the great Ella Fizgerald because next year marks 100 years since the birth of the great jazz singer.

Patti Austin crosses all musical genres, has made 17 solo albums, and has performed her award-nominated hit songs on the GRAMMYS® and the Oscars. As a performer, songwriter and vocalist she has had a star-studded career that began at the age of four, making her one of the most beloved artists over the world and a mainstay on the Billboard Jazz Albums charts.

Her most recent release, Avant-Gershwin, won Austin the Grammy for Best Jazz Vocal Performance. As with 2002's GRAMMY®-nominated homage to Ella Fitzgerald For Ella, Patti worked her magic again with the WDR Big Band on Avant-Gershwin.
A new high water mark for Patti, Avant-Gershwin finds her re-imagining George Gershwin's complex and fascinating body of work. "You can judge a brilliant piece of music by how you can bend and stretch it," said Austin. "I always believed George Gershwin to be avant-garde so I wanted to challenge myself and rework everything melodically and lyrically." She created unique and personal interpretations with arranger Michael Abene (Lionel Hampton, Buddy Rich, B.B. King), aiming for an operatic but contemporary feeling. Quincy Jones has already said of the album " 'Avant-Gershwin' is a Triumph. Listen Up!"
The ambitious "Overture/Gershwin Medley" leads off the album with a rousing fanfare, bridging together several Gershwin classics and immediately riveting the listener. For "Porgy & Bess," Austin leaves behind some of the misogynistic messages and portrays a strong female role. She creates "Swanee" in the image of a jazz song, with a hard shuffle. Austin also replaces the conspicuously racist word "mammy" with the word "momma." The singer follows Ella Fitzgerald's lead on "Lady Be Good," making it a rollicking, up-tempo ride. The resulting album is a work that goes beyond the "American Songbook," into Austin's bold and profound vision.
As if all of the above wasn't enough, Patti has teamed up to with the WDR Big Band yet again to record an amazing and innovative tribute to Duke Ellington, now set for release in 2013! Her pop R & B offering entitled "Sound Advice" which has received critical acclaim and continues to amaze audiences in performances. Patti continues to demonstrate her dedication to social issues and the importance of mentoring those in need of inspiring life lessons. (all of us!). When asked to co create an organization dedicated to mentoring, she said "Of course" and the "Over My Shoulder" mentoring foundation was born.(www.Overmyshoulderfoundation.org)

All of this new exciting creative energy follows Patti's physical transformation. She doesn't hide the fact that she had gastric bypass surgery after years of being overweight and suffering from diabetes and other health issues. Realizing how her choices impacted her health, she made a commitment to educate others. "That surgery saved my life," said Austin.
Patti has also devoted considerable time to performing for AIDS-related organizations.
She continues to bring attention to the fact that this issue deserves a renewed focus especially regarding the numbers of African American women victims and women victims around the world in need of care and compassion. Her current cause related effort is presented through her "Blue Movement" which is Patti's personal crusade to bring awareness and new insights into the domestic violence crisis in the USA and around the world. After seeing a domestic violence related episode of " Oprah", Patti wrote and recorded the inspirational anthem "By The Grace Of God" and has performed for various fundraising organizations such as the National Network To End Domestic Violence (NNEDV).
Austin, the daughter of jazz trombonist Gordon Austin and goddaughter of musical legends Jones and Dinah Washington, made her stage debut with Washington at the world-famous Apollo Theater in Harlem. During the 70s she was the undisputed "queen" of the New York session scene; her voice was heard behind everyone from Paul Simon, Cat Stevens, James Brown and Joe Cocker to Bette Midler, Roberta Flack, Luther Vandross and Diana Ross and on countless memorable commercial jingles. At the beginning of the 80s, Patti earned a wider audience through her participation on a series of albums with Jones including his best-selling Stuff Like That, his Grammy-winning classic The Dude, and his From Q With Love Vols. 1&2 via the standout track, "If This Time Is the Last Time."
Her early solo career resulted in the chart-topping, GRAMMY®-nominated hit "Baby Come To Me," a now classic duet with James Ingram; the Jam-and-Lewis-produced R&B smash "The Heat of Heat"; and the Oscar nominated "How Do You Keep the Music Playing?" Austin's 1988 album The Real Me, one of the most popular items in her catalog, featured a powerful collection of pop and jazz standards including "Cry Me A River," "Smoke Gets In Your Eyes" and "Mood Indigo."
A stint at GRP Records included 1991's Carry On, Love is Gonna Getcha (featuring the across-the-board hit "Through the Test of Time"), That Secret Place and Patti Austin Live (recorded at New York's Bottom Line), which showcased her amazing standup comedic skills and brilliant impersonations. Her 1998 album In and Out of Love spent almost two years on the contemporary jazz charts. In 1999 and in 2000, she recorded On The Way to Love, a superb Warner Brothers album produced by Paul Brown.
Austin has also written and created her own one-woman show, and co-created the musical extravaganza Beboperella, a modern-day, music-driven show that brings the sound and spirit of bebop to a new generation. She also is the co-creator of Oh Freedom, a show exploring the African-American quest for freedom and equality in America.
With her upcoming recording projects and touring engagements, Patti can look at her latest accomplishments with much justifiable pride. She continues to create milestones in an incredible career; a further testament to her status as a member of that rare breed: a true artist whose creativity knows no limits.