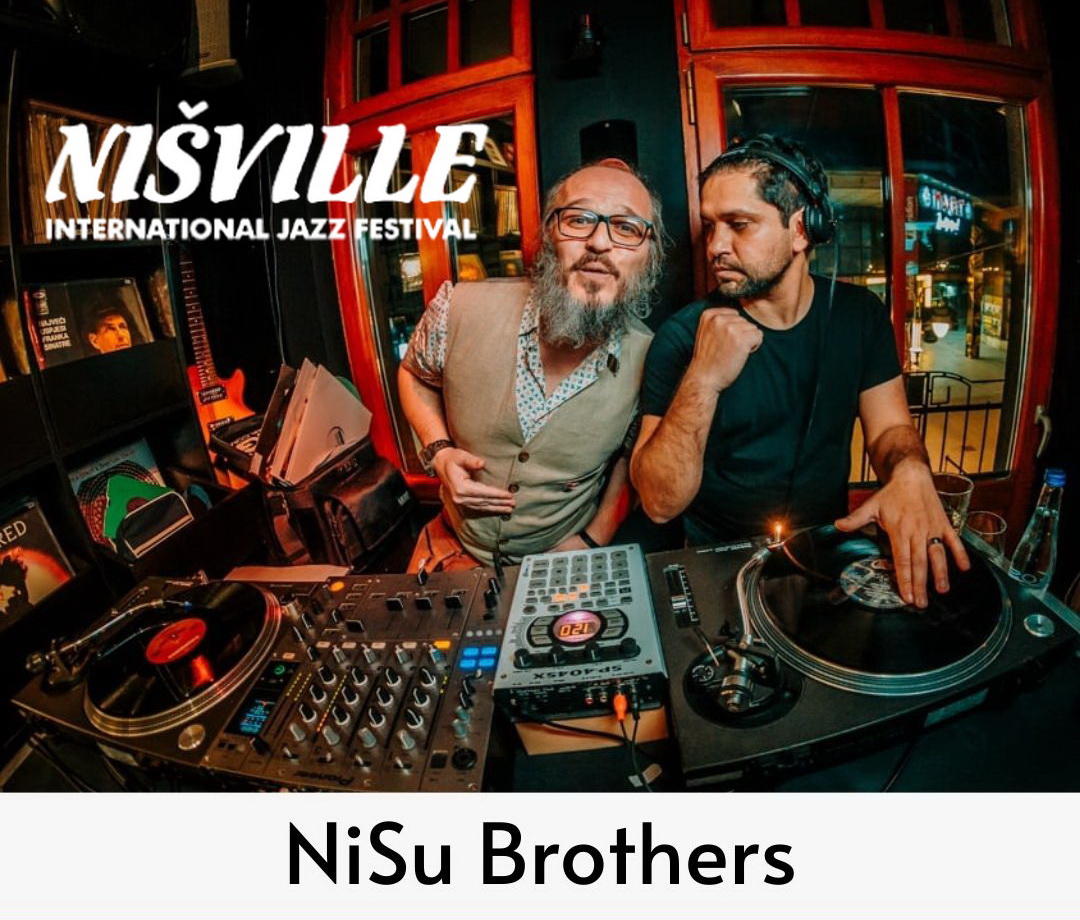 12 Jul

Nišville DJ residents on the road – NiSu Brothers "On the road"!
Nišville 2023 DJ Promo Tour!
Nišville DJ residents on the road – NiSu Brothers "On the road"!
The ambassadors of good sound and residents of the Midnight Jazzdance stage at the Nišville Jazz Festival, Milan Saitović – Jazzysad and Dejan Šobot – DJ Loptica, have embarked on a promotional tour in Southeast Europe to promote the Nišville Jazz Festival, which will take place from August 4th to 13th, 2023, in Niš.
After highly successful performances in Bulgaria and Montenegro, the NiSu Brothers will be performing in Romania, Croatia, Macedonia, Albania, Slovenia, and of course, Serbia, by the end of July.
Thanks to the captivating Jazzysad radio shows, this will be the first time that the Nišville Festival will be promoted in Japan, China, the United States, Morocco, Hungary, and Thailand!
The program at the Nišville Midnight Jazzdance stage will be held from August 10th to 13th, from midnight to 5 am. Sixteen renowned DJ performers from the United Kingdom, Switzerland, Italy, Croatia, Hungary, Slovenia, and Serbia will be performing. You can view the performance schedule and lineup for the Jazzdance stage here: [link]
Milan Saitović – Jazzysad is a DJ and producer from Subotica. He is one of the pioneers of electro swing, new-jazz, and electro tango sound in the region. He is influenced by soul, jazz, boogie, hip hop, trip hop, Brazilian, and broken beat music. In addition to solo performances, he is increasingly focused on collaborating with his band, Jazzysad Combo, and promoting Serbian jazz releases as well as the Balkan jazz scene beyond the borders of Serbia. He has performed with numerous international artists such as Shuya Okino, Rainer Trueby, Joey Negro, Perry Louis, DJ Maestro, Valique, Faze Action, Jazzcat, The Jazz Pit, Parov Stelar, Mario Biondi, Nicola Conte, and more.
DJ Loptica Niš Dejan Šobot – DJ Loptica was born and lives in Niš. He has been involved with music since he can remember, and what he can't remember, he has in photographs. He has been part of institutions such as Fast Radio, Happy House, Exit Festival, and Nisomnia. At the Nišville Jazz Festival, he works as a stage manager for the River, Earth, and Sky stages. He has been collaborating with Milan Saitović (Jazzysad) for quite some time, forming the unique DJ duo NiSu Brothers.
He is the host of "Loptanje," which is broadcasted on several internet radios, and recently on JMR, every second Wednesday of the month.
Photo: Mateja Jeremić Zuks / Nišville promo
For complete information about the festival, visit: www.nisville.com