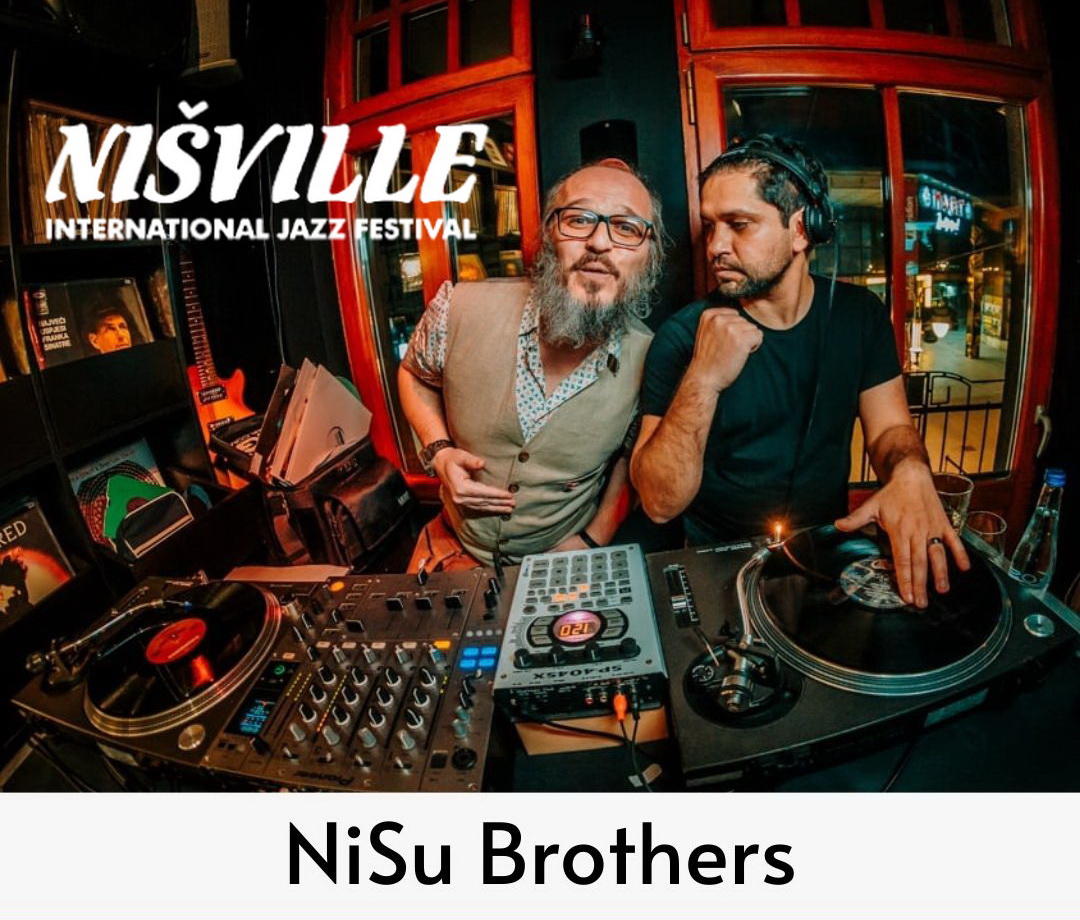 12 јул

Nišville DJ rezidenti nastupaju u regionu – NiSu Brothers "On the road"!
DJ promo turneja za Nišville 2023!
Nišville DJ rezidenti nastupaju u regionu – NiSu Brothers "On the road"!
Ambasadori dobrog zvuka i rezidenti Midnight Jazzdance bine Nišville jazz festivala, Milan Saitović – Jazzysad i Dejan Šobot – DJ Loptica krenuli su na promotivnu turneju u jugoistočnoj Evropi, u cilju promocije Nišvile jazz festivala, koji će biti održan od 04. do 13.avgusta 2023 u Nišu.
Nakon vrlo uspešnih nastupa u Bugarskoj i Crnoj Gori, do kraja jula NiSu Brothers će nastupati u Rumuniji, Hrvatskoj, Makedoniji, Albaniji, Sloveniji i naravno u Srbiji.
Zahvaljujući atraktivnim Jazzysad radijskim emisijama, po prvi put će na ovaj način Nišville festival biti promovisan u Japanu, Kini, Sjedinjenim Američkim Državama, u Maroku, Mađarskoj i na Tajlandu!
Program na Nišville Midnight Jazzdance stejdžu će ove godine biti održan od 10. do 13.avgusta od ponoći do 05h ujutru. Nastupiće 16 poznatih DJ izvođača iz Velike Britanije, Švajcarske, Italije, Hrvatske, Mađarske, Slovenije i Srbije. Satnicu nastupa i line up na Jazzdance bini možete pogledati ovde: 
https://nisville.com/sr/nisville-stages/midnight-jazz-dance-stage/ 
Milan Saitović – Jazzysad je DJ i producent iz Subotice. Jedan je od pionira electro swing, new-jazz i electro tango zvuka u regionu. Stvara pod uticajem soul, jazz, boogie, hip hop, trip hop, brazilian i broken beat zvuka. Pored solo nastupa, sve češće je fokusiran i na rad sa svojim bendom Jazzysad Combo i promociju srpskih džez izdanja kao i balkanske džez scene van granica Srbije.
Nastupao je sa brojnim imenima međunarodne scene poput Shuya Okino, Rainer Trueby, Joey Negro, Perry Louis, DJ Maestro, Valique, Faze Action, Jazzcat, The Jazz Pit, Parov Stelar, Mario Biondi, Nicola Conte…

DJ Loptica Niš
Dejan Šobot – DJ Loptica je rođen i živi u Nišu. Sa muzikom i uz muziku je od kad zna za sebe, a ono čega se ne seća, ima na fotografijama. Nekada u prvom timu sledećih insitutucija: Fast Radio, Happy House, Exit Festival i Nisomnia. Na Nišville Jazz Festivalu radi kao stejdž menadžer na River, Earth i Sky binama.
Sa Milanom Saitovićem (Jazzysad) već duže vreme čini jedinstveni DJ duo NiSu Brothers.  
Autor je ''Loptanja'' koje se emituje na nekoliko internet radija, a od skoro i na JMR, svake druge srede u mesecu. 
Foto: Mateja Jeremić Zuks / Nišville promo

Kompletne informacije o festivalu: www.nisville.com