16 Dec

Musical magic from Cuba at Nisville 2020
Vocal Sampling – for the first time in Serbia and the region
Musical magic from Cuba at Nisville 2020
Awesome a cappella sextet from Cuba – Vocal Sampling is going to perform at Nisville 2020 – at friday, August 14th. The musical kingdom's illusionists ! Close your eyes and listen ! Fresh and seductive as the waters of Cuba´s beaches, melodic and rhythmic as the wind which moves its palms and people, this is Vocal Sampling !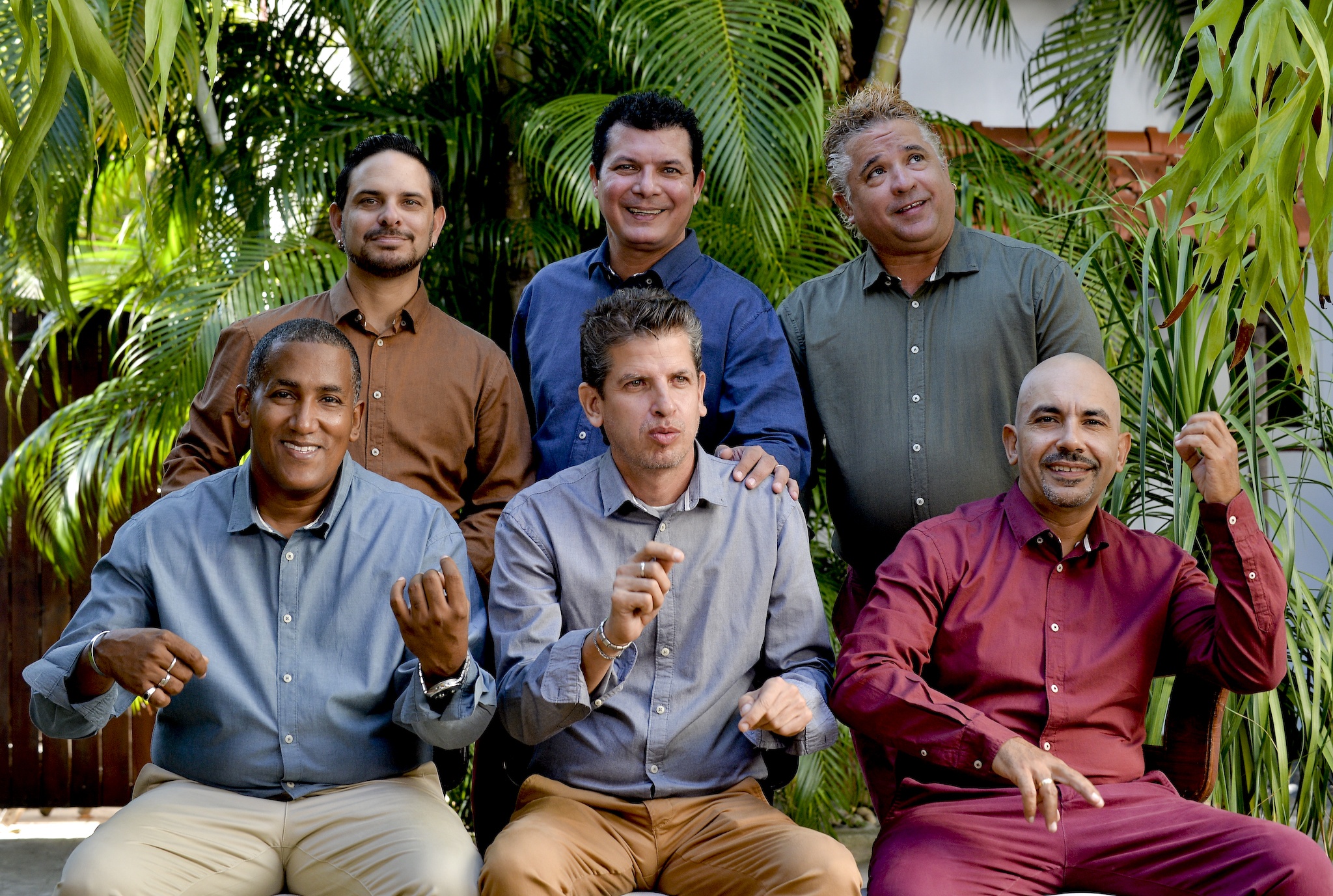 The Cuban group that made musical instruments from their voices, becoming the illusionists of the musical Kingdom. Concert of Vocal Sampling is to participate in a magic show. The unbelievers look for the trap. They do not want to believe that the group of sounds and the excellent melody they listen, come from the musicians´s voices. Meanwhile the experts applaud, because they know there are not deceits or tricks, but brilliance and harmony ! Aware of their cultural roots, with an unquestionable and undeniable stamp that characterizes Cubans, these six men, with nothing else but their voices, move very comfortable among the most dissimilar rhythms, from the so-called art music to the popular one. They are six wizards who have been leaving us mouth opened up on each concert, with strokes of originality and talent.
Everything began in 1989, as a game in their leisure at Havana Arts University, when they simulated the sound of di erent instruments with their voices. This way and, little by little, they went tuning their throats to the sound of the metals, the percussions and the strings and created the unique sound of Vocal Sampling.
1993 "Una forma mas" was their debut album. Henceforth, the sextet conformed by professional musicians has been protagonist of a beautiful musical career that has taken them to the most important and diverse scenarios all over the world. The group have gained the attention of artists such as Bobby McFerrin, Peter Gabriel and Paul Simon. In 1996, at the artists' invitation, Vocal Sampling performed at the Montreux Jazz Festival alongside artists such as Chaka Khan, Phil Collins, Mick Hucknall and Toots Thielemans to celebrate Quincy Jones's 50 years career. Vocal Sampling has had a very busy tour schedule. Every year they have been present in the most important circuits of the World Music and Jazz of Europe, as well as Japan, Latin and North America…. Explanade Hall in Singapore, Ronie Scott Club in London, New Morning Club in Paris, Vienna Opera House, Opera Theatre in Tel Aviv, Hollywood Bawl in L.A., among others, have brought their music to all kind of audiences, as well as festivals like WOMAD Festival in England and Spain, Montreux Jazz Festival, Vienna, Vancouver, Paris, New York, Miami, WOMEX in Berlin, Paleo Festival Nyon in Switzerland, Festival Printemps de Bourges in France, April Jazz in Finland,. ..Following a hugely successful tour of the United States in 1995 they have continued to tour throughout Latin America, Europe and Japan.
In August 2000 during the BBC Proms, Vocal Sampling made a huge impact when they performed in a sold-out Royal Albert Hall.
On the back of this success, in 2001 the group released a very successful album, "Cambio de Tiempo" that got 3 nominations for the "Latin Grammy Awards 2002 " on the categories of "Best Recording Engineering", "Best Tropical Music Album" – "Producer of the Year and Best Produced Song".
2006, release of the album "Akapelleando".
2013, on December, they performed at the Shanghai's World Music Festival.
2014, they made a tour around Europe and Asia, including festivals in Madrid, Canarias and Borneo. During that summer, they performed in festivals in Brazil and Mexico. On December they were nominated in Cuba to the Luca's Award for their most recent video "El lunes que viene empiezo" which will be included in their next CD that is already in progress.
Vocal Sampling has performed in two of the three editions of the Festival Leo Brouwer de Música de Cámara that has taken place in Havana.
2015, a new show "So Sampling" will be presented with concerts in Mexico and China….
2017, their latest album "Así de Sampling" has been launched.
Members
René Baños Pascual : Director, composer, arrangements, Lead & backing voices
Oscar Porro Jimenez : Bass voice
Reinaldo Sanler Maseda : Lead & backing voices
Pedro Guillermo Bernard Coto : Percussion voice
Luis Alberto Alzaga Mora : Lead & backing voices
Ruben Dario Perez Guerra : Lead & backing voices
They talk about it
"MUSICAL MAGIC. Vocal Sampling must rank as one of the most extraordinary groups in the world… So effective is it that initially you think they must be using backing tapes, or that the real musicians are hidden offstage. They are not, and even the brass and flute parts are created only by their six voices. Their timing was impeccable, their presentation theatrical and their repertoire imaginative."
The Times
"Vocal Sampling's set… showed the power of talent to create magical moments out of nothing… No matter how well you decide what Vocal Sampling does, it won't sound as good on paper as it did on the glittery stage….The group's warmth and inventiveness made this the year's most memorable Latin show so far."
Los Angeles Times
"The most exciting a cappella group to hit the scene in years… The purity of their voices is immaculate and there isn't a part missing nor gap to be filled. It's difficult to distinguish the different voices as they seem to flow from one, bringing together a united body of tight, rhythmic and melodic concoctions."
New York Latino
"Vocal Sampling's music transcends novelty. They are masters of rhythm and harmony as well as being spirited showmen. Performing crisp, intricate arrangements by bandleader René Banos, they prove to be serious musicians."
Miami New Times
https://www.youtube.com/watch?v=_xj1ncF5hSY    Hotel California
https://www.youtube.com/watch?v=4XluRPolC3I     Buscando guayaba
https://www.youtube.com/watch?v=TrI21bZsQ80   Every breath you take
https://www.youtube.com/watch?v=LdKip6pzEwo     El lunes que viene empiezo