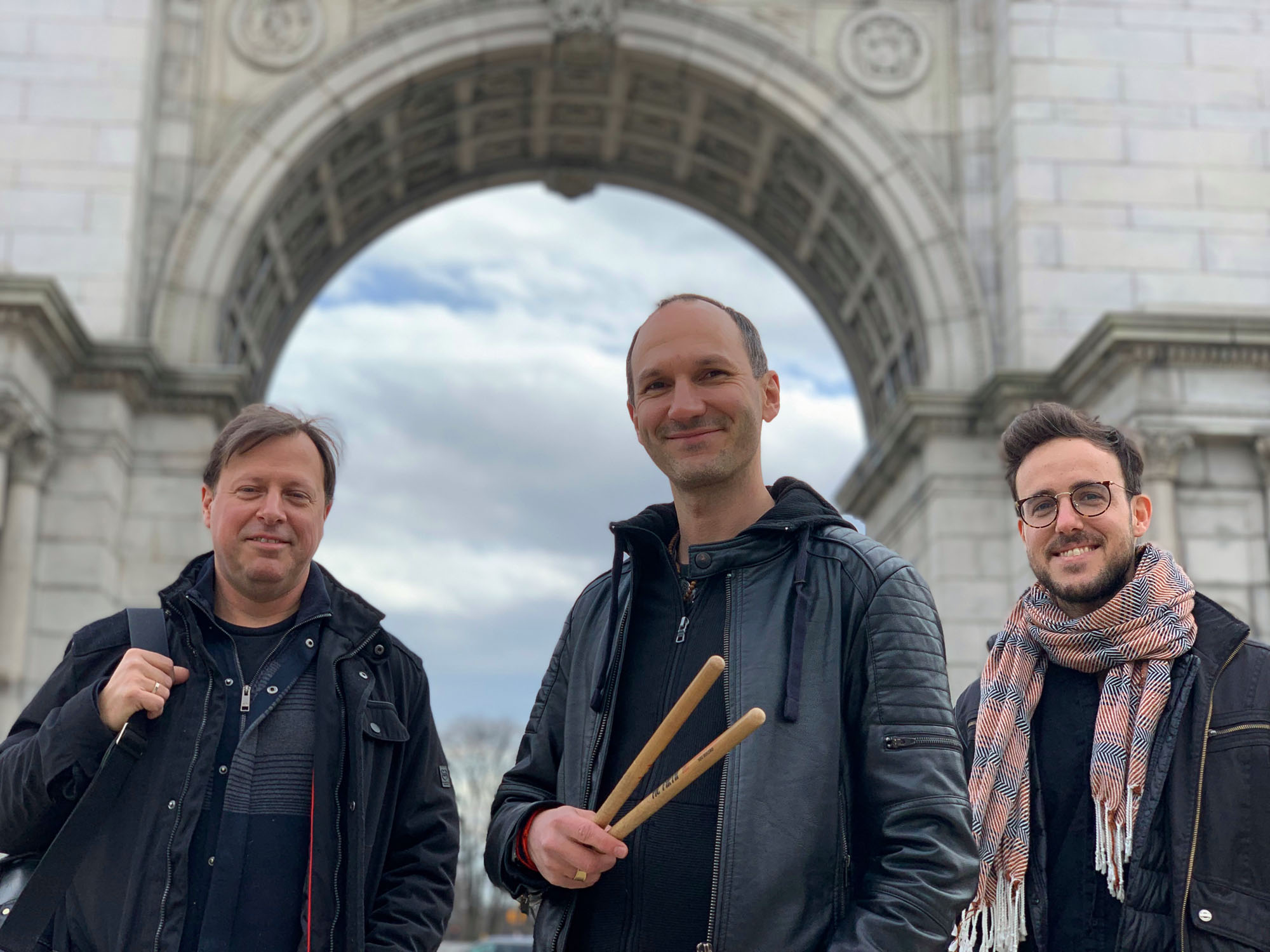 04 Jun

Ferenc Nemeth, Chris Potter and Gilad Hekselman at Nisville
International "Freedom trio" comes in Serbia
Ferenc Nemeth, Chris Potter and Gilad Hekselman at Nisville
International "Ferenc Nemeth Freedom trio ft. Chris Potter and Gilad Hekselman" is going to perform at Nisville 2019 – Saturaday august 10th.
Ferenc Nemeth is an accomplished and versatile musician who continues to push the boundaries of jazz drumming and composition. He has performed in over 35 countries, more than 300 cities, over a 100 of the most important festivals, front of thousands of people including the Playboy jazz festival in Los Angeles, the JVC festival in NYC at the Carnegie hall with Herbie Hancock, the Montreal Jazz Festival the Montreux Jazz festival in Switzerland, the Tokyo Jazz Festival, the Marciac Jazz Fest, the Queen Elizabeth Hall in London and many others.
As MARK F. TURNER of ALL ABOUT JAZZ describes – "Ferenc Nemeth represents the new breed of post-Art Blakey jazz drummers, ushering in their own bravado and confident leadership."
An exciting performer and imaginative collaborator, Nemeth is well regarded for his work with the Lionel Loueke Trio, Kenny Werner Coalition, Billy Childs Trio and has worked with the who is who in Jazz, including multiple GRAMMY award winning artists such as Herbie Hancock, Wayne Shorter, Dave Samuels, Jimmy Heath…etc.
In Ferenc's various bands none others have performed than Joshua Redman, John Patitucci, Mark Turner, Chris Cheek, Chris Potter, Russell Ferrante, Jimmy Haslip and many others.
NATE CHINEN of NEW YORK TIMES – "Ferenc Nemeth is a nimble Hungarian drummer with a feel for African rhythm."
"A truly international trio, coming from different countries, backgrounds and cultures, (USA, Israel, Hungary) united in music. The band and the music represents the freedom we have, the freedom we should have. In one hand, we live in the most developed world, we can easily travel anywhere, call anyone, video chat, email…etc. Yet, we still carry prejudice, discrimination, racism and other terrible things. We should be free to do what we want (within moral laws), say what we want, yet based on color, religion and other factors we make judgements. People get killed everyday for different reasons in different parts of the world and most of the world leaders don't seem to do anything about it. With this music we are eliminating different cultural boundaries, we represent the freedom of being. We represent the essence of being born and die pure. Being free of baggages at birth and death. Being humans at the core and that's all."
TERRELL KENT HOLMES of ALL ABOUT JAZZ – "The sophistication and self-assuranceof his (Ferenc's) composing and arranging have the armarks of a seasoned veteran." On this evening Ferenc will have 2 brilliant team mate, Saxophonist Chris Potter and Guitarist Gilad Hekselman.
Chris Potter saxophonist, a world-class soloist, accomplished composer and formidable bandleader, has emerged as a leading light of his generation. Down Beat called him "One of the most studied (and copied) saxophonists on the planet" while Jazz Times identifie him as "a figure of international renown." A potent improvisor and the youngest musician ever to win Denmark's Jazzpar Prize, Potter's impressive discography includes 15 albums as a leader and sideman appearances on over 100 albums. He has performed or recorded with many of the leading names in jazz, such as Herbie Hancock, Dave Holland, John Scofield, the Mingus Big Band, Jim Hall, Paul Motian, Dave Douglas, Ray Brown and many others.
Gilad Hekselman has been developing a reputation as one of the most promising guitarists in New York since his arrival in 2004. After only a few years this native Israeli has shared the stage with some of the greatest artists in the New York City jazz scene including Chris Potter, Mark Turner, John Scofield, Anat Cohen, Ari Hoenig, Esperanza Spalding, Sam Yahel, Jeff Ballard, Gretchen Parlato, Avishai Cohen, Jeff 'Tain' Watts, Tigran Hamasyan, Aaron Parks and Greg Hutchinson. Gilad is the winner of the 2005
Gibson Montreux International Guitar Competition and the 2017 Downbeat magazine critics poll Rising Star in guitar category. As a band leader he released 6 albums, Splitlife (2006), Words Unspoken (2008), Hearts Wide Open (2011), This Just In (2013), Homes (2015) and Ask for Chaos (2018).
QUOTES:
NATE CHINEN of NEW YORK TIMES – "Ferenc Nemeth is a nimble Hungarian drummer with a feel for African rhythm."

AMAZON EDITORIAL REVIEW – "On "Triumph" Ferenc Nemeth has created a journey for the ages. An epic work!"

DAN MCCLENAGHAN of ALL ABOUT JAZZ – "Triumph's approach is similar to pianist Brad Mehldau's Highway Rider (Nonesuch, 2010)—a thematic set shaped like a symphony, with each piece leading into the next, interlocked and sectioned by interludes."

TERRELL KENT HOLMES of ALL ABOUT JAZZ – "The sophistication and self-assurance of his (Ferenc's) composing and arranging have the earmarks of a seasoned veteran."

MARK F. TURNER of ALL ABOUT JAZZ – "Ferenc Nemeth represents the new breed of post-Art Blakey jazz drummers, ushering in their own bravado and confident leadership."

HRAYR ATTARIAN of ALL ABOUT JAZZ – "Nemeth exhibits a rare combination of exhilarating élan and harmonic creativity, often in the same tune."

"Interlude III" finds Nemeth exploring the full melodic potential of his drum set, channeling an inner Max Roach."

"With Triumph, Nemeth makes a bold and exquisite statement that showcases his sublime talents as a composer, improviser, drummer and bandleader—a statement that will surely stand the test of time."