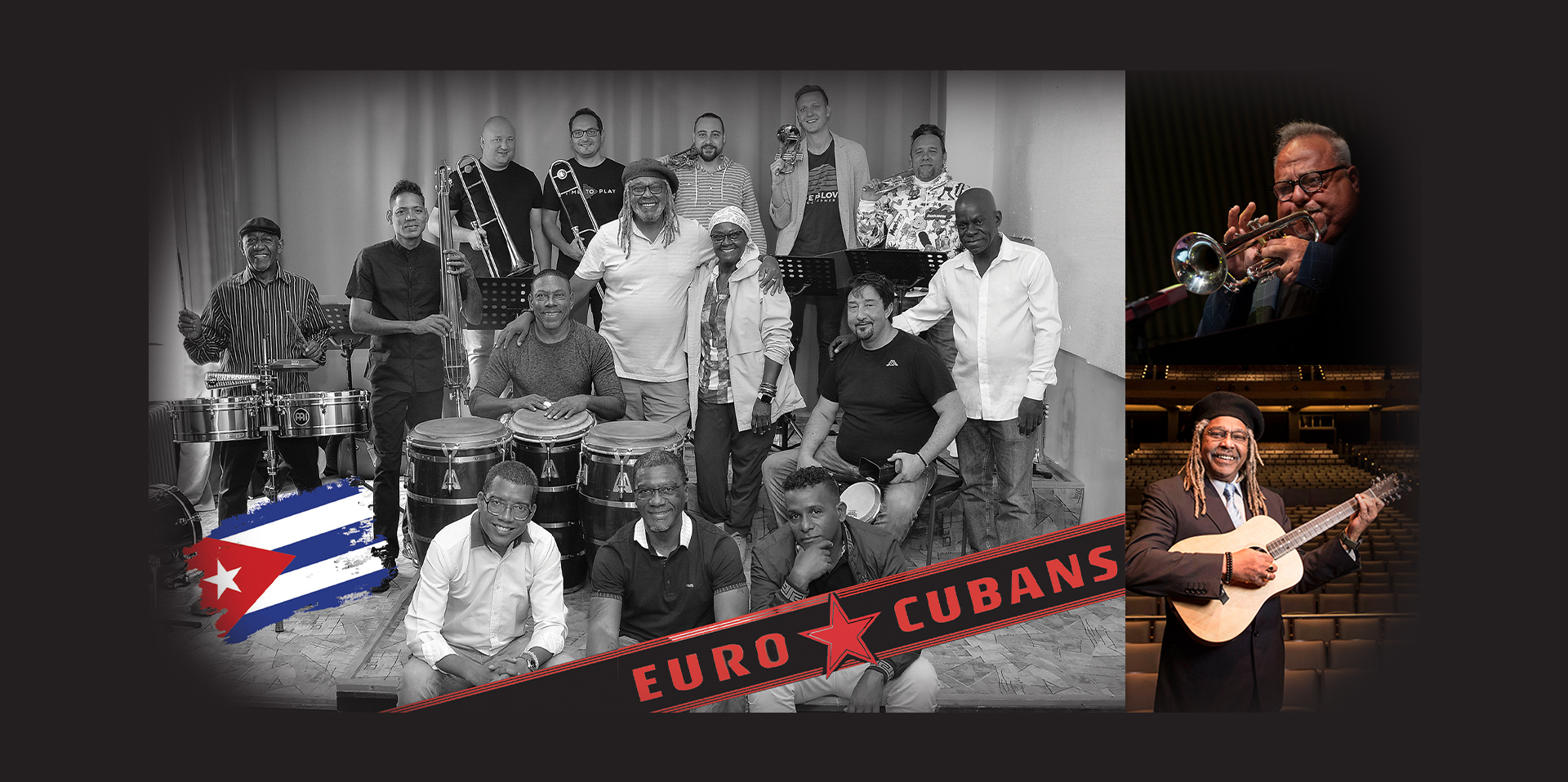 22 May

EuroCubans feat. Juan de Marcos Gonzalez & Juan Munguia
EuroCubans feat. Juan de Marcos Gonzalez & Juan Munguia

Cuban Music Spectacle at Nišville 2023
The explosive ensemble "EuroCubans," consisting of fourteen top musicians from Cuba and Europe (Slovenia and Croatia), will perform at the upcoming Nišville festival on Saturday, August 12th. Among the band members are renowned Cuban musicians, both Grammy winners – Juan de Marcos Gonzalez and Juan Munguia.
The group was formed on the initiative of Slovenian percussionist Črt Pšeničnik, who, after formal academic training, perfected Afro/Cuban styles with the best Cuban percussionists, including Grammy-winning Juan de Marcos Gonzalez, one of the central figures in Cuban music. Juan de Marcos Gonzalez, who is the lead vocalist in the band (and also plays the tres – a guitar with three double strings, characteristic of this style), is also highly regarded as an arranger. He is best known as a member of the legendary "Buena Vista Social Club" and as an actor – lending his voice to one of the main characters in the animated film "Vivo," alongside Gloria Estefan, among others. Gonzalez's collaboration with many prominent musicians has significantly contributed to the popularization of Cuban music worldwide. He has performed and recorded as a member of the renowned "Afro Cuban All Stars" as well.
In addition to Pšeničnik and Gonzalez, the group includes other well-known names in jazz and Latin popular music. First and foremost, there is trumpeter Juan Munguia, a two-time Grammy winner with the legendary group Irakere (where he succeeded Arturo Sandoval). He has also played with the "United Nations Orchestra" led by Dizzy Gillespie (at the time, the lineup included Paquito D'Rivera, Claudio Roditi, Slide Hampton, Steve Turre, Danilo Perez, and others). When he performed with Irakere at the Newport Jazz Festival in Japan in 1992, he was selected to join the All Stars big band, which included John Fadis, Tom Harrell, Joe Henderson, Chuchito Valdes, and others. In the mid-1990s, Munguia taught trumpet at the Zurich Academy of Contemporary Music and the "Swiss Jazz School." For the past twenty years, he has been living and working in Spain. Also among members is well-known basist (and teacher in Finland) Carlos Del Puerto, one of the founding members of the legendary band Irakere.
Among others, the EuroCubans band also includes percussionist Rolando Salgado Palacio "nino mentira" (Afro Cuban All Stars, Candido Febre, Conjunto Chappottin), pianist David Alfaro (Afro Cuban All Stars, La Banda JB de Juaquin Betancoirt), and singer Emilio Suarez Martinez (Willie Colon, Israel Lopez Cachao, Afro Cuban All Stars).
The energy of Cuban rhythms in this ensemble not only leaves no one indifferent but the band members always remind the audience in advance to come to their concerts wearing appropriate shoes for dancing.
The complete lineup of EuroCubans feat Juan de Marcos Gonzalez & Juan Munguia consists of:
Juan de Marcos Gonzalez – vocals, tres; Črtomir Pšeničnik – percussion; Juan Munguia – trumpet;
Rolando Salgado Palacio – percussion; Emilio Suarez Martinez – vocals; David Alfaro – piano;
Raudel Marzal Torres – trumpet; Durruthy Lopez Alcibiades – vocals; Alberto Muguercia Ramos – timbales; William Valdes Ibanez – vocals; Carlos Del Puerto – bass; Matej Leskovar – trombone; Miron Hauser – trombone, and Andrej Štrekelj – trumpet.
Tickets for the upcoming edition of Nišville can be purchased at a promotional price of only 3,000 RSD until the end of May. From June 1st, the ticket package will cost 4,000 dinars! Tickets for Nišville 2023 can be purchased at all Ticket Vision sales outlets in Serbia and abroad, as well as through online sales at https://tickets.rs/event/nisville_komplet_5351. Sales locations: https://www.tickets.rs/partners.
So far, the announced participants of Nišville are Roberto Fonseca, Tricky, Asian Dub Foundation, Ida Nielsen and Funbots, Thana Alexa Ona ft. Antonio Sanchez.
Links to EuroCubans performances:
https://youtu.be/LXby_mStBh0 EURO CUBANS – Reconciliacion
https://youtu.be/EdwH4BGPb5o EURO CUBANS – Huellas del pasado