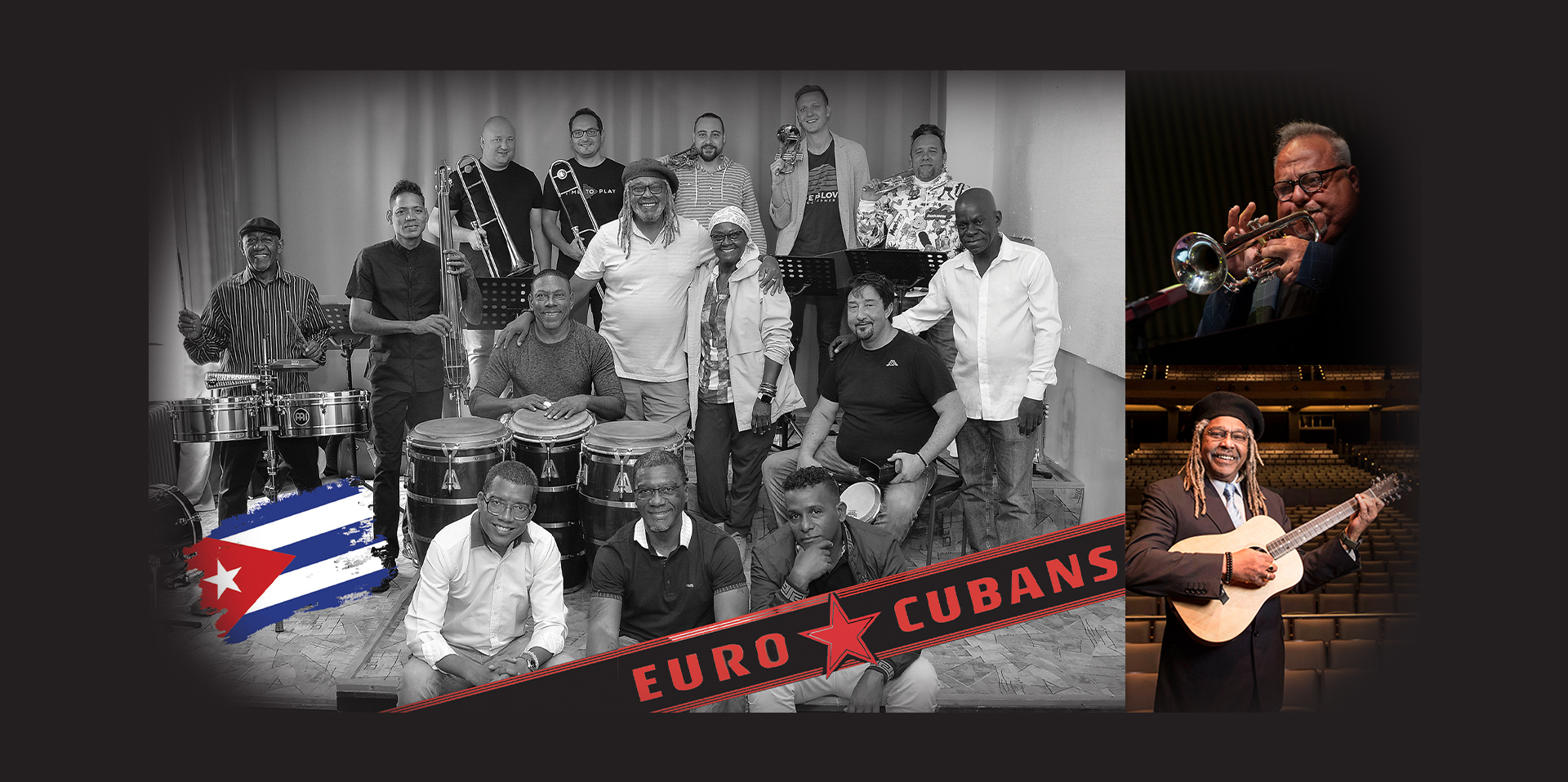 13 мај

EuroCubans feat. Juan de Marcos Gonzalez & Juan Munguia na Nišvilu
EuroCubans feat. Juan de Marcos Gonzalez & Juan Munguia
Kubanski muzički spektakl na Nišvilu 2023
Furiozni sastav sastav "EuroCubans" koji čini četrnaest vrhunskih muzičara sa Kube i iz Evrope (Slovenija i Hrvatska) nastupiće na predstojećem Nišvilu u subotu 12. avgusta, a među članovima benda su i poznati kubanski muzičari – obojica dobitnici Grammy nagrada – Juan de Marcos Gonzalez i Juan Munguia.
Grupa je nastala na incijativu slovenačkog perkusioniste Črta Pšeničnika, koji je posle oficijelnog akademskog školovanja, afro/cuban stilove usavršavao kod najboljih kubanskih perkusionista, i Gremijem nagrađivanog Huana de Markosa Gonzalesa – jedne od centralnih ličnosti kubanske muzike. Huan de Markos Gonzales, koji je glavni vokal u bendu (svira i tres – gitaru sa tri duple žice, karakterističnu za ovaj stil), a uživa i repurtaciju vrhunskoh aranžera, najpoznatiji je kao član postave legendarnog sastava " Buena Vista Social Club" ali i kao glumac – pozajmio je glas jednom od glavnih likova animiranog filma "Vivo" i to u ekipi u kojoj je, između ostalih, bila i Gloria Estefan. Gonzalesova saradnja sa mnogim istaknutim muzičarima vidno je doprinela popularizaciji kubanske muzike širom sveta. Nastupao je i snimao i kao član poznate postave "Afro Cuban All Stars".
Pored Pšeničnika i Gonzalesa, grupu čine i druga poznata imena džez i latino popularne muzike. Pre svih, tu je trubač Juan Munguia, dvostruki dobitnik Grammy nagrade sa legendarnom grupom Irakere (u kojoj je nasledio Artura Sandovala). Svirao je i u "United Nations Orchestra" koji je predvodio Dizzie Gilespie (u postavi su u to vreme bili i Paquito D'Rivera, Claudio Roditi, Slide Hampton, Steve Ture, Danilo Peres…). Kada je 1992. godine sa grupom Irakere svirao na Newport Jazz Festivalu u Japanu – bio je izabran da nastupi i kao član All Stars big benda u kojem su svirali i John Fadis, Tom Harrell, Joe Henderson, Chuccho Valdes… Sredinom dvedesetih predavao je trubu na Ciriškoj akademiji za savremenu muziku i na "Swiss Jazz School". Poslednjih dvadesetak godina živi i radi u Španiji. Takođe u grupi je i čuveni basista i cenjeni pedagog Carlos Del Puerto – član originalne postave grupe legendarne grupe "Iraklere", sa kojom je svirao 25 godina.
Između ostalih, u bendi EuroCubans su i perkusionista Rolando Salgado Palacio "nino mentira" (Afro Cuban All Stars, Candido Febre, Conjunto Chappottin), pijanista David Alfaro (Afro Cuban All Star, La Banda JB de Juaquin Betancoirt) i pevač Emilio Suarez Martinez (Willie Colon, Israel Lopez Cachao, Afro Cuban All Stars).
Energija kubanskih ritmova ovog sastava ne samo da nikog ne ostavlja ravnodušnim, već članovi benda uvek unapred podsećaju posetioce da na njihove koncerte dođu u obući prikladnoj za ples.
Kompletnui postavu EuroCubans feat Juan de Marcos Gonzalez & Juan Munguia čine:
Juan de Marcos Gonzalez – vokal, tres; Črtomir Pšeničnik – udaraljke; Juan Munguia – truba;
Rolando Salgado Palacio – udaraljke; Emilio Suarez Martinez – vokal, David Alfaro – klavir;
Raudel Marzal Torres – truba; Durruthy Lopez Alcibiades – vocal; Alberto Muguercia Ramos – timbales; William Valdes Ibanez – vocal; Carlos Del Puerto – bas; Matej Leskovar – trombon; Miron Hauser – trombon i Andrej Štrekelj – truba.
https://youtu.be/LXby_mStBh0 EURO CUBANS – Reconciliacion
https://youtu.be/EdwH4BGPb5o EURO CUBANS – Huellas del pasado
Kompleti ulaznica po promo ceni od samo 3.000 RSD za predstojeće izdanje Nišvila mogu se kupiti aktuelni do kraja maja, dok će od 1.juna komplet karata koštati 4.000 dinara!
Kompleti ulaznica za Nišville 2023 mogu se kupiti na svim prodajnim mestima u mreži Ticket Vision u Srbiji i inostranstvu, kao i putem online prodaje na https://tickets.rs/event/nisville_komplet_5351
Prodajna mesta: https://www.tickets.rs/partners
Do sada najavljeni učesnici Nišvilla su: Roberto Fonseca, Tricky, Asian Dub Foundation, Ida Nielsen and Funbots, Thana Alexa Ona ft. Antonio Sanchez