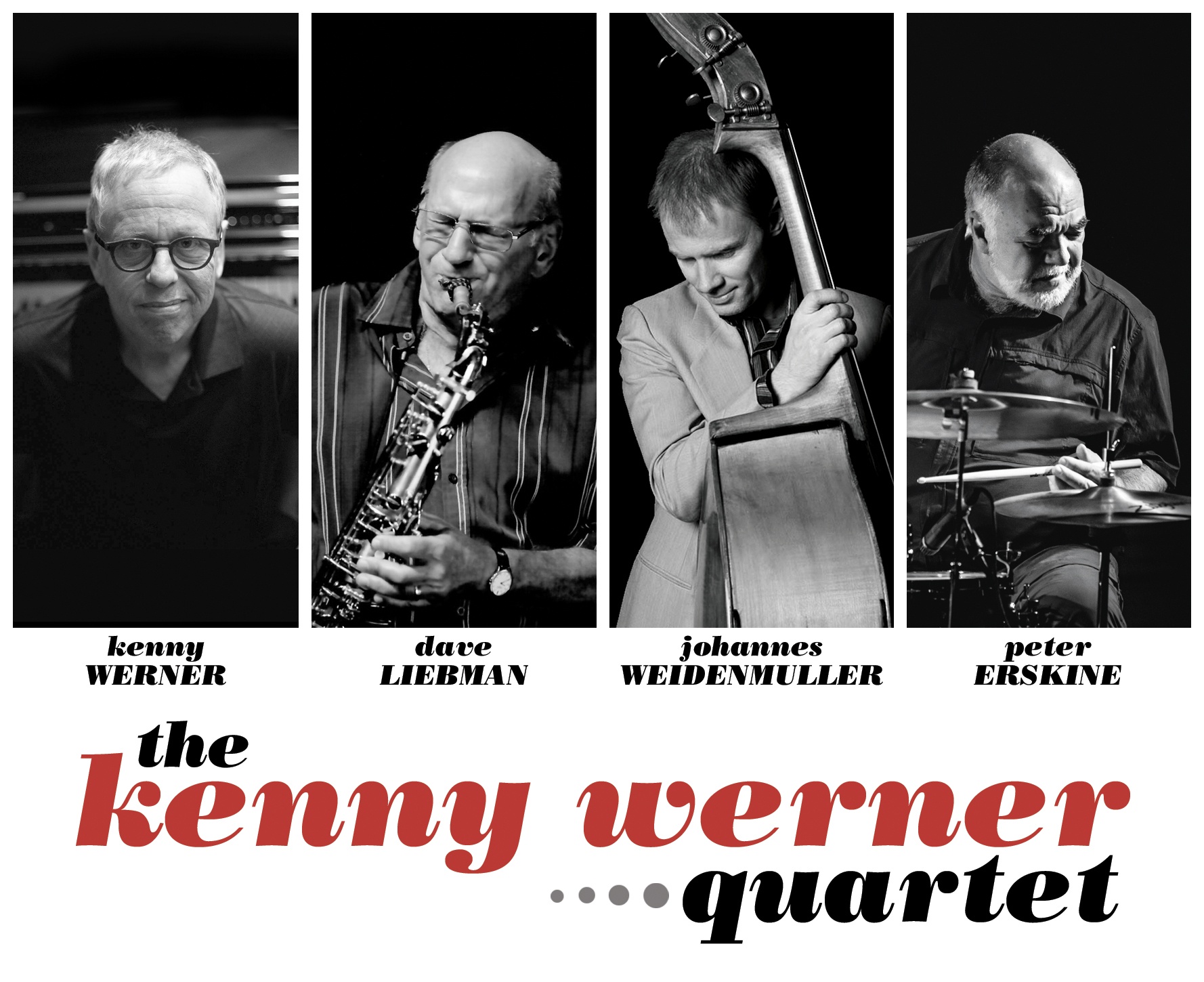 12 Apr

World premiere of "Kenny Quartet" in Nisville
Kenny Werner, Dave Liebman, Peter Erskin and Johannes Weidenmuller – together in Nis
World premiere of "Kenny Quartet" in Nisville

The super jazz group, in the real sense of the word, is led by Kenny Werner, who is also the saxophonist Dave Liebman and drummer Peter Erskine, as well as one of the most sought after double bassist in the US – German Johannes Weidenmuller – will have one of the first joint concerts in Nisville, on the final night of the festival, on Sunday, August 11th.
Kenny Werner has been a world-class pianist and composer for over forty years. His prolific output of compositions, recordings and publications continue to impact audiences around the world. In 1996 he wrote his landmark book, Effortless Mastery, Liberating The Master Musician Within. Werner has since created videos, lectured world-wide and authored many articles on how musicians, artists or even business people can allow their "master creator" within to lift their performance to it's highest level, showing us how to be spontaneous, fearless, joyful and disciplined in our work and in our life.
Kenny was awarded the 2010 Guggenheim Fellowship Award for his seminal work, No Beginning No End. No Beginning No End is a musical journey exploring tragedy and loss, death and transition, and the path from one lifetime to the next. Utilizing over 70 musicians, Kenny's third album for Half Note Records is an expansive composition featuring Joe Lovano, Judy Silvano, Wind Ensemble, Choir and String Quartet.
Born in Brooklyn, NY on November 19, 1951 and then growing up in Oceanside, Long Island, Kenny began playing and performing at a young age, first recording on television at the age of 11. Although he studied classical piano as a child, he enjoyed playing anything he heard on the radio. In high school and his first years of college he attended the Manhattan School of Music as a classical piano major.
His natural instinct for improvisation led Kenny to the Berklee School of Music in 1970. There he sought tutelage of the renowned piano teacher Madame Chaloff. A Her gracious wisdom and inspiration became a driving force in Kenny's conception: A music conscious of its spiritual intent and essence.
From Boston, Kenny traveled to Brazil with the saxophonist Victor Assis Brasil. There he met Victor's twin brother, Brazilian pianist Joao Assis Brasil. He studied with Joao, who provided another piece of the puzzle for Kenny's conception that would lead to Effortless Mastery, his landmark opus on how to allow the master musician from within to manifest. The book, is now available as an ebook on kindle and in Ibooks.
NEA JAZZ MASTER, saxophonist David Liebman was born in Brooklyn, New York on September 4, 1946. After contracting polio as a small child, he began classical piano lessons at the age of nine and clarinet/saxophone by twelve. His interest in jazz was sparked by seeing John Coltrane perform live in New York City clubs such as Birdland, Village Vanguard and the Half Note. Throughout high school and college, Liebman pursued his jazz interest by studying with saxophone guru Joe Allard (other Allard alumni are Eddie Daniels, Mike Brecker, Steve Grossman, Harry Carney) as well as jazz musicians Lennie Tristano and Charles Lloyd. Upon graduation from New York University (with a degree in American History), he began to seriously devote himself to the full time pursuit of being a jazz artist.
In the early 1970s, Liebman took the leading organizational role as Founder and President of Free Life Communication, a cooperative of several dozen young musicians. Free Life became an integral part of the fertile New York "loft" jazz scene in this period and was funded by the New York State Council of the Arts with a residence in the Space for Innovative Development that also housed several other famous performing groups, most notably the Alwin Nicolais Ballet Company, which lead to collaborative projects during this period.
After one year spent with Ten Wheel Drive, one of the early jazz fusion groups and performing with his first mentor, drummer Pete LaRoca, Lieb secured the coveted saxophone/flute position in the group of John Coltrane's ex-drummer, Elvin Jones. Within two years, Liebman reached the zenith of his apprenticeship period when the legendary trumpeter Miles Davis hired him. These years from 1970 thru 1974 were filled with tours, recordings and the incredible experience gained by being on the band stand with two masters of jazz. At the same time, Liebman began exploring his own music-first in the Open Sky Trio with Bob Moses and then with pianist Richie Beirach in the group Lookout Farm. This group recorded for the German based ECM label as well as A&M Records and touring the U.S., Canada, India, Japan and Europe, winning Group Deserving of Wider Recognition in the Downbeat Critics Poll (1976).
In 1977, Liebman did a world tour with pianist Chick Corea followed by the formation of the David Liebman Quintet with John Scofield as featured sideman. After several world tours and recordings by the quintet over three years, he reunited with Richard Beirach in both the duo format and Quest in 1981. Beginning with bassist George Mraz and drummer Al Foster, the group solidified with the addition of bassist Ron McClure and drummer Billy Hart. Through 1991 the group recorded seven CDs, toured extensively and did many workshops with students worldwide, garnering high critical praise worldwide. (The group has reunited for special tours and recordings since 2005.)
From 1991 through 2012, the Dave Liebman Group featuring guitarist Vic Juris toured and recorded nearly twenty CDs representing a very eclectic direction that ranged from jazz standards to Puccini arias, adaptations from the John Coltrane and Miles Davis repertoires, as well as original compositions in styles ranging from world music to fusion and free jazz, always maintaining a repertoire that balanced the past, present and future.
Over the past decades, Lieb has often been featured with top European musicians such as Joachim Kuhn, Daniel Humair, Paolo Fresu, Jon Christensen, Bobo Stenson, Michel Portal, Wolfgang Reisinger and Jean-Paul Celea among others. His reputation in Europe has led to big band and radio orchestra performances with the WDR in Koln, Germany; NDR in Hamburg, HR Big Band in Frankfurt, the Metropole Orchestra, Netherlands. Also as a result of Liebman's eclecticism he has also been featured with progressive classical groups like Klangforum in Vienna, Avanti from Helsinki, Finland and most notably with theEnsemble Intercontemporain from Paris….eventful because it was the first time a jazz improviser was invited to play with the prestigious group founded by Pierre Boulez. On all occasions the music was specially commissioned to feature Lieb's unique soprano saxophone style.
David has been featured on over five hundred recordings, of which he has been the leader or co-leader on nearly two hundred with several hundred original compositions written and recorded. His artistic output has ranged from straight ahead classic jazz to chamber music; from fusion to avant garde and world music. Other ongoing performing/recording combinations include the group Different But the Samefeaturing saxophonist Ellery Eskelin, drummer Jim Black and bassist Tony Marino; the "We3" trio with bassist/composer extraordinaire Steve Swallow and long time Lieb associate Adam Nussbaum on drums; duo work with both pianists Phil Markowitz and Marc Copland.
His newest group Expansions formed in 2013 features musicians from the new generation of jazz players living in New York; Bobby Avey on piano, Matt Vashlishan on reeds, Alex Ritz on drums along with the perennial Tony Marino on bass. The music of this group reflects current trends and styles being played by the new crop of jazz players.
Lieb's published materials include a wide variety of books considered classics in the field as well as instructional DVDs and chamber music (Aebersold Publications, Caris Music and Advance Music): Self Portrait of A Jazz Artist, A Chromatic Approach to Jazz Harmony And Melody, Developing A Personal Saxophone Sound, several of which have been translated into multiple languages. Liebman's biography is titled What It Is-The Life Of A Jazz Artist in conversation with author extraordinaire Lewis Porter (Scarecrow Press).
His teaching activities at universities and in clinic settings have taken him literally around the world as a result of his varied musical directions and expertise on several instruments, along with an ability to articulate the intricacies of the jazz language, aesthetic and technique. Over the years, he has regularly received grantees to study with him funded by the NEA (U.S.), the Canadian Arts Council, as well as arts councils of numerous European countries. In 1989 he founded the International Association of Schools of Jazz (IASJ), an organization dedicated to networking educators and students from international jazz schools through periodic meetings, exchange programs and newsletters. Liebman presently serves as the Artistic Director of the IASJ and a teacher at the Manhattan School of Music, NYC; Guest Lecturer at the Global Jazz Institute at the Berklee School in Boston. He has consistently placed among the top three finalists of the Downbeat Critics Poll since 1973 in the Soprano Saxophone category, gaining the top place several times in polls conducted by the magazines Jazz Ed and Jazz Times. Lieb is the recipient of an Honorary Doctorate from the Sibelius Academy (Helsinki, Finland); the Order of Arts and Letters (France); and the NEA Jazz Master award which is the highest accolade granted by the U.S. government in the jazz field (2011).
Peter Erskine has played the drums since the age of four and is known for his versatility and love of working in different musical contexts. He appears on 700 albums and film scores, and has won two Grammy Awards, plus an Honorary Doctorate from the Berklee School of Music (1992).
Fifty albums have been released under his own name or as co-leader. He has played with the Stan Kenton and Maynard Ferguson Big Bands, Weather Report, Steps Ahead, Joni Mitchell, Steely Dan, Diana Krall, Kenny Wheeler, Mary Chapin Carpenter, The Brecker Brothers, The Yellowjackets, Pat Metheny and Gary Burton, John Scofield, et al, and has appeared as a soloist with the London, Los Angeles, Chicago, Frankfurt Radio, Scottish Chamber, Ensemble Intercontemporain, Royal Opera House, BBC Symphony, Oslo and Berlin Philharmonic Orchestras. Peter premièred the double percussion concerto Fractured Lines, composed by Mark-Anthony Turnage, at the BBC Proms with Andrew Davis conducting, and has collaborated frequently with Sir Simon Rattle. He also premiered the Turnage opera "Anna Nicole" at the Royal Opera House in London. Turnage has composed a solo concerto for Peter titled "Erskine," which received its world premiere in Bonn, Germany in 2013, with a US premiere at the Hollywood Bowl with the LA Philharmonic. Peter has been voted 'Best Jazz Drummer of the Year' ten times by the readers of Modern Drummer magazine and was elected into the magazine's Hall of Fame in 2017.
Peter graduated from the Interlochen Arts Academy in Michigan and studied at Indiana University under George Gaber. In 1972 Peter commenced his pro career playing with the Stan Kenton Orchestra. Four years later, he joined Maynard Ferguson before working with Jaco Pastorius in Weather Report and moving to Los Angeles. Peter recorded five albums with the band. He won his first Grammy Award with their album '8.30'. During this time in LA, he also worked with Freddie Hubbard, Joe Henderson, Chick Corea, Bobby Hutcherson, Joe Farrell and George Cables. Peter then moved to New York City where he worked for five years with such musicians as Michael Brecker, Mike Mainieri, Eddie Gomez and Eliane Elias in Steps Ahead, John Scofield, Bill Frisell and Marc Johnson in the legendary group Bass Desires, the John Abercrombie Trio plus Bob Mintzer's Big Band.
Peter's lived in LA since 1987 but has been travelling around the world all of that time, working with such artists as Diana Krall, Joni Mitchell, Vince Mendoza, Steely Dan, plus European musicians Jan Garbarek, Kenny Wheeler, Palle Danielsson, John Taylor, Kate Bush, Nguyen Lê, Rita Marcotulli, the Norrbotten Big Band in Sweden plus Sadao Watanabe in Japan. He won his second Grammy Award as the drummer of the WDR big band in Köln along with Michael Brecker, Randy Brecker, Vince Mendoza and others for the "Some Skunk Funk" album. Meanwhile, Peter keeps busy in on the road and in LA with such artists as Seth MacFarlane, Patrick Williams, plus John Beasley, Bob Sheppard and Benjamin Shepherd (all 3 musicians members of his Dr. Um Band), as well as playing in the studios. Films where Peter's drumming can be heard include "Memoirs of a Geisha," all three of the Austin Powers movies, "The Secret Life of Pets," plus the title music of the Steven Spielberg/John Williams collaboration, "The Adventures of Tintin." He also played the jazz drumming cues on the Academy Award-winning soundtrack for "La La Land," and can be heard playing on the scores for "Sing," "Logan" and "House of Cards."
Peter produces jazz recordings for his record label, Fuzzy Music, with 4 Grammy nominations to its credit. Peter is also an active author with several books to his credit; titles include "No Beethoven (Autobiography & Chronicle of Weather Report)," "Time Awareness for All Musicians," "Essential Drum Fills," and his latest book (co-authored with Dave Black for Alfred Publishing), "The Drummers' Lifeline." He is also authoring a series of iOS Play-Along apps suitable for all instruments.
Peter is Professor of Practice and Director of Drumset Studies at the Thornton School of Music, University of Southern California. Peter plays Tama Drums, Zildjian Cymbals, Vic Firth Sticks, Remo Drum Heads, Meinl Percussion, and
"One of the most interesting and explosive bass players to come along in a long time" reads a quote from a review in the French newspaper Le Monde, referring to bassist Johannes Weidenmueller.
Bassist Johannes Weidenmueller has been a first call performer with a long list of jazz greats since settling in New York City 20 years ago He has been a member of the Hank Jones trio, Ray Barretto's New World Spirit, the Carl Allen-Vincent Herring quintet, the John Abercrombie quartet, the Joe Lovano trio and the Kenny Werner trio. Other associations include Brad Mehldau, George Benson, John Scofield, Dewey Redman, Randy Brecker, Kenny Wheeler, Toots Thielemans, Wynton Marsalis, Joshua Redman, Gary Bartz, Jonny Coles, Clifford Jordan, Joe Chambers, and many others.
His warm full sound, his mastery of time and his flexibility and openness have made him one of most sought after bassist in a wide variety of musical settings. He has collaborated with the National Orchestra of Spain, the Balthasar Neumann Orchestra and choir, flamenco musician Chano Dominguez, the Indian music ensemble of Gaurav Madzumdar, tabla virtouso Ty Burhoe, New Orleans keyboard legend Dr.John, and singer Madeleine Peyroux.
Born in Heidelberg, Germany Johannes was introduced to music early on. He started playing cello at the age of 6 and kept a busy performance schedule throughout his high school years, participating in many local and regional chamber music and orchestral events. After switching to the double bass at age 16, he went on to study jazz bass at the Conservatory in Cologne and soon after made the move to study at the prestigious Jazz and Contemporary Music program of the New School University in New York. Here he was able to study with jazz greats such as Ron Carter, Dave Holland and Buster Williams. In 1991 he joined the trio of legendary pianist Hank Jones and performed with him throughout North America. Playing with Hank Jones paved the way to becoming a full time professional bass player and countless performances with many other jazz greats have since followed.
While being busy performing over 200 concerts a year around the world, Johannes is also a committed educator. He has been on the faculty of the New School's jazz and contemporary music program since 1997 where he teaches bass and ensemble and ear-training. He also is in demand as a clinician, teaching workshops and clinics at the Banff Center for the Arts, NYU, New England Conservatory, U of Green Bay, the Amsterdam Conservatory, U of West Virginia, U of N.C Chapel Hill and many others. In addition he is also the author of two bestselling books on metric modulation published by Mel Bay .
He has been the recipient of numerous awards and grants including the young European jazz artist of the year award in 1993 and 1996, the Hennessey jazz prize 1996, grants from Arts international and the New School faculty development grant.

Autumn Leaves – Kenny Werner


Dave Liebman whips it out – amazing soprano saxophone solo