19 Feb

Maceo Paker to kick-start Nišville 2019
Maceo Parker to kick-start Nišville 2019
Legendary saxophone player is on his way to Serbia!
Legendary American Funk and soul-jazz saxophone player (specializing in alto, tenor and baritone saxophone) Maceo Parker will perform with his collective on the premier night of Nišville Jazz Festival 2019, which will begin on the Thursday evening of the 8th of August. Most widely known for being a part of the brass lineup of the James Brown (the Godfather of Soul) orchestra – he is also considered to be the main member of the collective – in the recent decades, Maceo Parker has, rightfully so, joined in the plethora of the greatest of Soul artists of all time, working together with names such as Prince, Ray Charles, Keith Richards, and bands: "Parliament Funkadelic" and " Red Hot Chili Peppers"…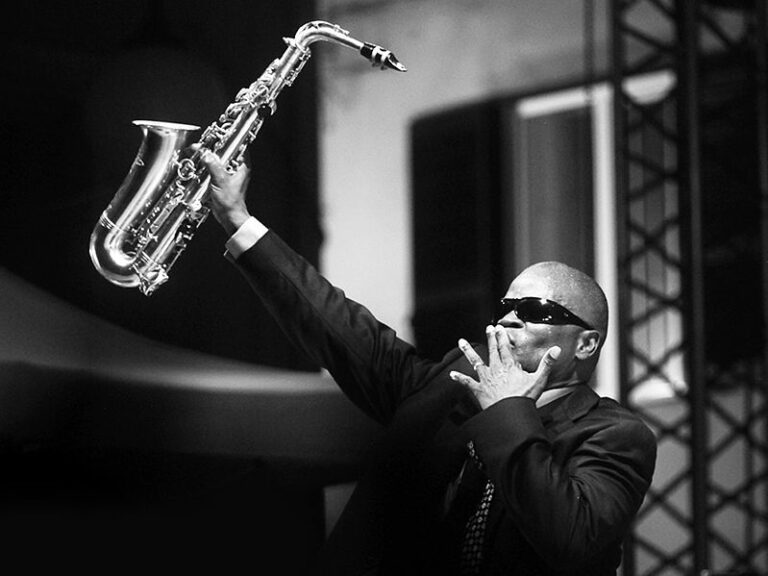 Maceo Parker, who just recently turned 76(14th of February), was born in Kingstown, North Carolina. His mother sang in a church choir, his father played the piano and drums, and his older brother, Melvin, was a talented drummer. Sam James Brown cited in his autobiography that he only wanted Melvin for his band, but after a bit of negotiations he accepted a "tied transaction" to enlist Melvin's younger brother, 19 year old Maceo as well! Six years later, the Parker brothers would go on to form Maceo & All the King's Men band alongside a couple of other players who left Brown's band. This new band would perform for the next couple of years, and in 1973. Maceo would again perform alongside Brown. In 1975. Maceo will again leave Brown with a couple of other players (including Fred Wesley), and go on to join the legendary funk-soul band "Parliament Funkadelic" of George Clinton. Parker would then, for the third time, return to play alongside James Brown from 1984. to 1988, and during the nineties he would have a highly successful solo career. His very first album from that period, "Roots Revisited", would be at the height of the Billboard Contemporary Jazz Charts for 10 whole weeks. And so, even in its infancy, his band earned the title "greatest little funk band in the world" or "million-dollar support band". His first live album would also achieve great success, "Life on Planet Groove" from 1992. godine, a first time collaboration with Candy Dulfer, a sax player from the Netherlands, for Maceo. The very next year Maceo would be featured on an album by the De La Soul band, and by the end of the nineties he started playing and performing alongside Prince and his band "New Power Generation". Alongside Prince he would also perform in a series of 21 concerts in 2007. in the London O2 arena, and 5 years later a series (also consisting of 21 concerts) of concerts would follow in the LA Forum. On the list of famous artist he performed with are also Ray Charles, Keith Richards, bands, Jane's Addiction, Red Hot Chili Peppers, Dave Matthews Band… Parker's album "Rootsa & Grooves" with German WDR big bendom – a commemoration album for the late and great Ray Charles claimed the "Jammie" award as the best Jazz album of 2009, and three years later he would record the album "Soul Classics" with the same band.
In July of 2012. Maceo Parker received the prestigious lifetime award "Victoires Du Jazz". In the recent years he has been performing with a consistent tempo – and so he performs in more than 290 concerts each year!
<p style="text-align: center;">1. Maceo Parker – Shake everything you've got</p>
<p style="text-align: center;"><iframe src="https://www.youtube.com/embed/ABLwmYI09Lw" width="560″ height="315″ frameborder="0″ allowfullscreen="allowfullscreen"></iframe></p>
<p style="text-align: center;">2. James Brown – Maceo Parker Instrumental</p>
<p style="text-align: center;"><iframe src="https://www.youtube.com/embed/f5CdUpKGbuc" width="560″ height="315″ frameborder="0″ allowfullscreen="allowfullscreen"></iframe></p>
<p style="text-align: center;">3. Prince &amp; Maceo Parker- Pass the peas (live)</p>
<p style="text-align: center;"><iframe src="https://www.youtube.com/embed/9nMJl786Kh8″ width="560″ height="315″ frameborder="0″ allowfullscreen="allowfullscreen"></iframe></p>
<p style="text-align: center;">4. Maceo Parker – Make it funky</p>
<p style="text-align: center;"><iframe src="https://www.youtube.com/embed/3_0alsFnxwI" width="560″ height="315″ frameborder="0″ allowfullscreen="allowfullscreen"></iframe></p>