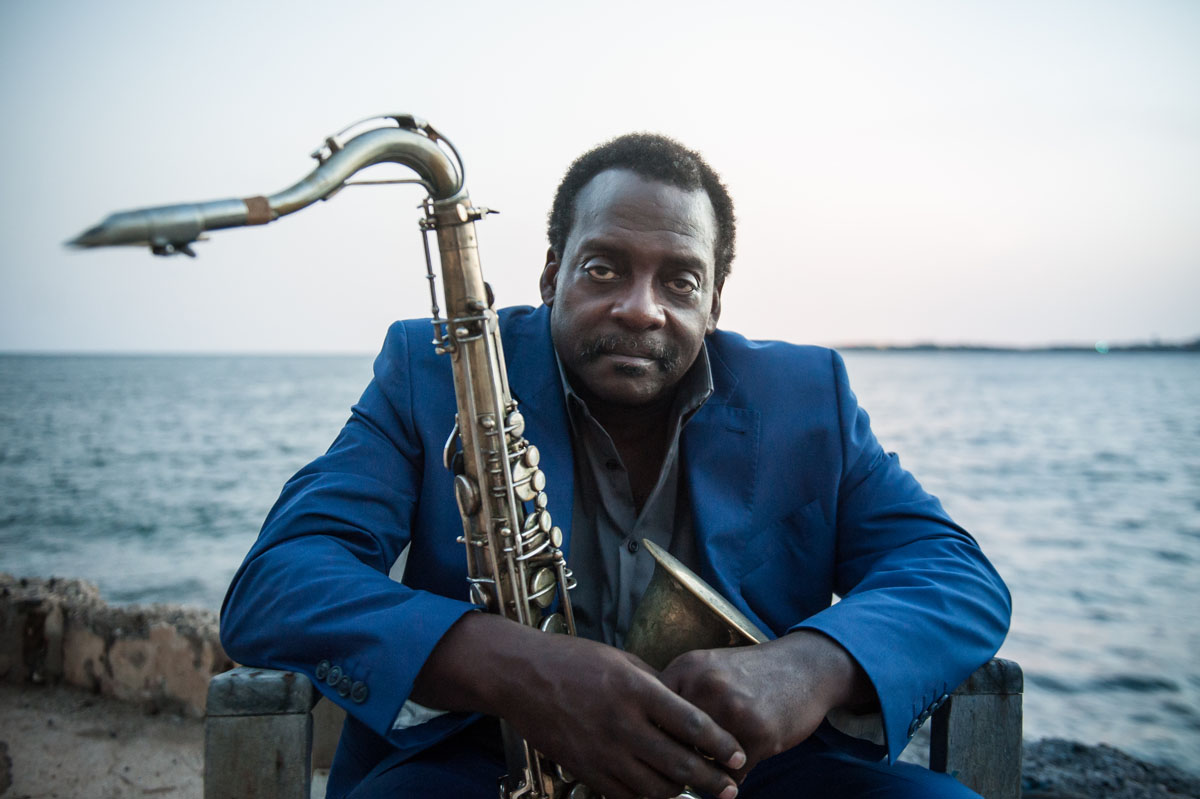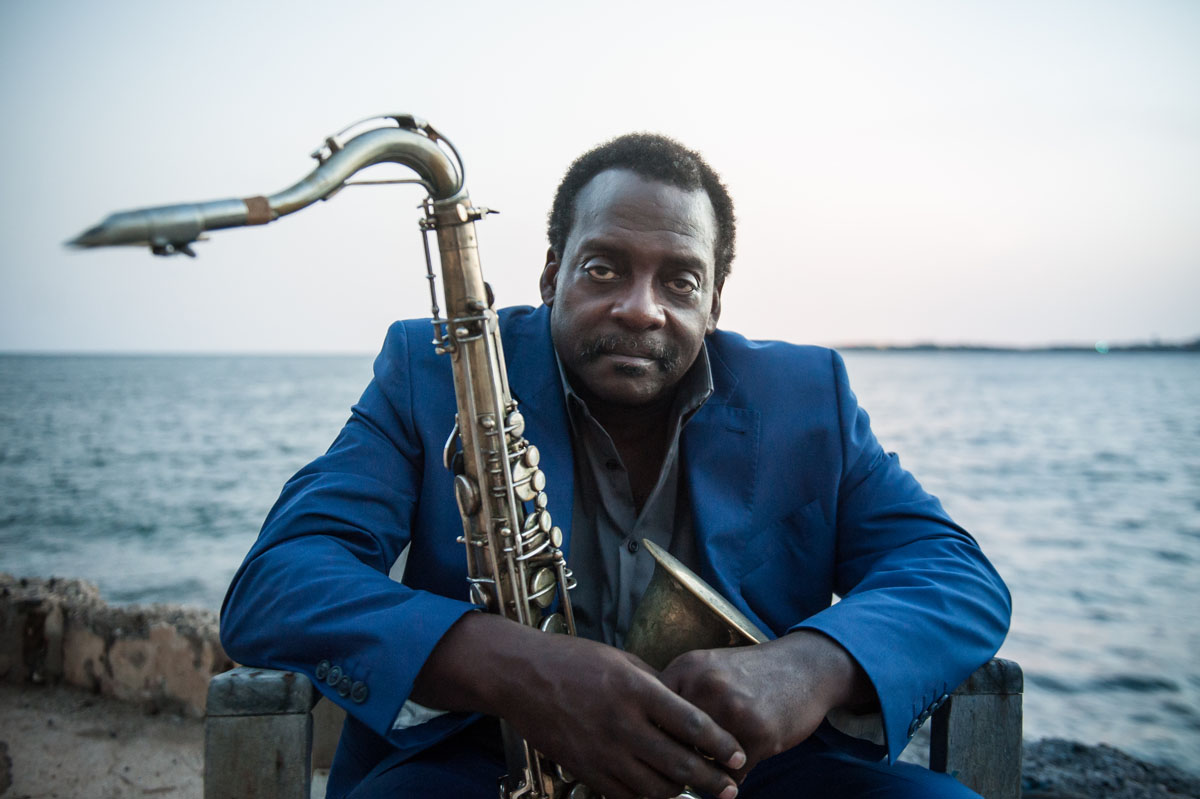 12 Jul

Lydian Sound Orchestra & David Murray
Great jazz at the Nisville opening
Lydian Sound Orchestra & David Murray
One of the best Italian and world known jazz bands – Lydian Sound Orchestra is going to perform at Nisville 2019 opening day (August 8th), along with true legend of world jazz scene, saxophonist , composer and arranger David Murray.
Few musicians in jazz history have proven more vigorously productive and resourceful than David Murray. During the past 35 years, from the moment he first visited New York as a 20- year-old student, playing in a walkup loft, in 1975, David has careened forward in a cool, collected, rocket-fueled streak. He has released over 150 albums under his own name. Yet more impressive than the numbers is the constancy of two abiding achievements: as a tenor saxophonist, he has perfected an instantly recognizable approach to improvisation that even in its freest flights acknowledges the gravity of a tradition he honors more than most; and he has altered the context for his improvisations as an infinite mosaic of musical challenges and explorations. David Murray goes down as a worthy successor for some of the biggest names in jazz, and he is now contributing to the rise of young talents such as Lafayette Gilchrist, a young pianist who has already been widely acclaimed by the critics. "Be Bop and shut up! An impossible task for the young David, at the time of the free jazz and civil rights movements, the last adventure of the end of century jazzman.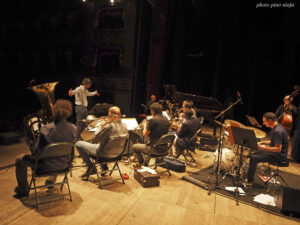 Impossible, too, for the son of Baptist parents, discovering the Negro spiritual style in the time of Coltrane and during Ayler's best period, not to be political right down to his tenor-playing fingertips. David Murray, now in his fifties, has 130 albums to his name and contributions to around a hundred other recordings as a guest artist behind him.
At the end of the 1990's, David Murray was referred to in terms of fusion, of world music, andeven of Pan-Africanism, ever since he took on a backwards tour through the Caribbean and the 'little' Americas, via South Africa and Senegal. Before setting off on this journey, David Murray jumped the gun somewhat for a jazz musician. Born in Oakland, he grew up in Berkeley and studied with Catherine Murray (his mother, an organist), Bobby Bradford, Arthur Blythe, Stanley Crouch and many others until the 2nd March 1975 when he left Ponoma College in Los Angeles for New York, which he made his base. In New York, he met many new musicians and musical styles: Anthony Braxton, Don Cherry, Julius Hemphill … Within Ted Daniels' Energy Band, he worked with Hamiett Bluiett, Lester Bowie and Frank Lowe. In 1976, after a first European tour, David Murray set up one of his mythical groups, the World Saxophone Quartet with Oliver Lake, Hamiett Bluiett and Julius Hemphill. From Jerry Garcia to Max Roach, via Randy Weston and Elvin Jones, David Murray continued working with ever more artists and making ever more recordings. From 1978 onwards, he entered into a period of intense creativity, one flexible grouping of musicians following on from another. At the same time, he was writing film music ('W Dubois', 1989, 'Dernier Stade', 1996 and 'Karmen Gaye' in 2000), working with the 'Urban Bust Women' dance company ('Crossing Into Our Promise Land' in 1998) and regularly working with Joseph Papp of the New York Public Theatre ('Photograph', 1978 and 'Spell Number' in 1979) and with Bob Thiele, founder of Impulse and Red Baron, who became his producer in 1988 and signed him with Columbia. Thiele produced more than ten of his albums on Red Baron up until his death in 1997. David Murray also likes rearranging the works of great composers, as in his project 'The Obscure Work of Duke Ellington' in 1997 (arranged for a big band and a 25-piece string orchestra) or his re-transcription of a Paul Gonsalves solo 'Tribute to Paul Gonsalves' in 1990 (with the Boston Philharmonic Orchestra). More recently, using a decet and 12 strings, he updated the classics of Nat King Cole's Hispanic songbook with 'Cole in Spanish' in 2009. In addition to this, he has written two operas: 'The Blackamoor of Peter the Great' in 2004 for strings and voices, based on a selection of twenty poems by Pushkin, and 'The Sysiphus Revue', his 2008 bop opera sung by a gospel choir on an Amiri Baraka libretto. In 2006, his Black Saint Quartet was reborn with 'Sacred Ground', on which Cassandra Wilson can notably be heard. The compositions on this album pay tribute to one of his most auspicious periods with the mythical Italian label Black Saint, and to the republishing of this entire catalogue in digital format on the major digital download sites. This work was moreover followed by the rediscovery of 26 rare tracks recorded on the DIW label, which are now available exclusively for downloading on Emusic, and are a good way for fans to get the measure of the scale of a career which already is dizzying. In 2010 he is on tour with the Gwo Ka Masters. After giving 200 concerts all around the world during their last tour (2005), the group set off again to promote their fourth album, 'The Devil Tried to Kill Me', recorded in 2007 at the mythical Deb's Studio in Pointe-à-Pitre with the great Taj Mahal. In 2011: 'David Murray Play Nat King Cole En Espanol' (Motema). With this new album, we hear the fruit of one of David Murray's most improbable and effective projects: an interpretation of two albums that Nat King Cole recorded in Spanish in 1958 and 1962, performing melodies from Cuba, Mexico, Puerto Rico, Rio de Janeiro, and Buenos Aires. The result is one of Murray's most purely pleasurable albums. It demonstrates a tremendous leap in his approach to a world of music that has long fascinated him. The arrangements are imaginative, compelling, and wily, especially in the integration between winds and stings. The band is as tight as a fist. And there is a stunning feature for David Murray the improviser, a sensational tour de force and high spot in his massive discography.
At 56 years of age, David Murray has a rosy future ahead of him, and a successful past behind him and, since a glimpse of this exceptional career with a very promising future was felt to be essential, several directors have brought his musical career to the screen, in 'Speaking in Tongues', a saga which follows him for ten years from 1978 to 1988 or in 'Jazzman', in 1997. In 2007, Arte produced 'Saxophone Man', in a reference to the title of the Stanley Croutch play written at the time of Pomona College: a year's filming from New York to Pointe-à-Pitre, via Oakland and Paris, a year of images which reflect the David Murray of today, a citizen of the world. The next step sees David Murray's collaboration with Macy Gray. Following their work within the musical project Questlove Afro-Picks (including Tony Allen, Questlove from The Roots, Amp Fiddler…) in collaboration with Red Bull Music Academy, Macy Gray asked David Murray for her forthcoming new album ('Covered' – release date March 26th) to rearrange a cover song ('Love Lockdown') from Kanye West. Later, David Murray invites Macy Gray, the soul music star (more than 14 million albums sold), to sing in his Big Band (David Murray Big Band Featuring Macy Gray). For her, he writes a new repertory that includes famous soul hits from Macy gray, and offers to them new sharp and bright arrangements. He also offers to Macy some brand new original compositions completed with insightful lyrics by Ishmael Reed. The perfect combination of a unique voice and sophisticated jazz arrangements make this project one of the most exciting sound of this New Year 2013. Surprising and wonderful, the project has already conquered audiences from famous festival such as: Jazz A La Villette (Paris), London Jazz Festival (London), North Sea Jazz Festival (Netherlands), and more… 2012 is also the year of David Murray's Honorary Doctorate Of Music Degree from Pomona College, Claremont, California. This new year 2013, David Murray strikes back with a new unique project and line-up: David Murray Infinity Quartet. A new album 'Be My Monster Love' will be released June 11th 2013, on Motéma. David Murray here offers to his quartet a new repertory and a new name: Infinity Quartet. It takes root deep into the Jazz tradition, and gathers around David Murray the finest line-up of contemporary jazz musicians: Nasheet Waits recalls Ed Blackwell on the drums; Marc Cary reminds us the very essential pianist John Hicks; and Jaribu Shahid the constancy of Ray Drummond. The album also features the soul singer Macy Gray and the jazz vocal singer Gregory Porter! Indisputably the most creative project of David Murray, where emotions and virtuosity will not let anyone indifferent.
From 2013 onwards, David Murray strikes back with a new project: David Murray Infinity Quartet intended to feature some of the most unique and incandescent singers of today. The first album 'Be My Monster Love', released in June 2013 (on Motéma), features the soul singer Macy Gray and the jazz vocal singer Gregory Porter along with a quartet rooted into the Jazz tradition. The second album of the Infinity Quartet, to be released in the spring of 2016, features a leading voice on the spoken- word scene: Saul Williams. This band, composed of drummer Nasheet Waits, pianists Jason Moran and Orrin Evans, bassist Jaribu Shahid delivers an impassioned vibration, enlighten by the abrasive words of Saul Williams.
This year marks a new milestone in David Murray's discography, with the release of 'Perfection', which gathers around David Murray two of the most sensitive contemporary jazz musicians: pianist Geri Allen and drummer Terri Lyne Carrington.
The Lydian Sound Orchestra, formed in 1989 by composer-arranger Riccardo Brazzale (musician, but also scholar, teacher and promoter), is undoubtedly the most popular medium-band in the field of Italian jazz in recent years, as is attested by multiple specialist referendums.
An atypical temptation (in the manner of Miles 'Tuba Band, Monk's Town Hall Orchestra or Mingus' Black Saint Band) which focuses mainly on reworking the jazz tradition, according to a contemporary approach, and on a compositional technique whose main purpose is to highlight the live spirit and the work in progress among the musicians.
For many years now, national and international critics have recognized its great merits and never misses a chance to pay tribute to them: "top-flight Italian jazz orchestra", "freedom, flamboyant, precious, combination of sounds", "freedom and structure", "controlled anarchy", "humor and musicality", "music interesting, refreshing and exciting" or "here there is really something new".
Applauded on many Italian and European stages, from Umbria to Manchester, from Milan to Rome, Turin and Nis, often together with international guests (in recent years, Paul Motian, Terrell Stafford, Charles McPherson, Don Moye, the Mingus Dynasty, David Murray , Jeremy Pelt), Lydian has many CDs to her name: from the last dozen years we remember the popular tributes to Monk (from "Monk at Town Hall & More" to "Ruby, Nellie & Nica"), the very personal re-readings of the history of jazz ("Back to Da Capo" and "The Lydian Trip") and live ("Live in Appleby" and "Reflections").
In 2014, on the occasion of the 25th year of activity, Lydian presented at the Mart in Rovereto, in world premiere, the music of the Mingusian masterpiece "The Black Saint and The Sinner Lady", in the form of opera-ballet, with the Company Abbondanza / Bertoni.
Between 2016 and 2018 Lydian proposed several new projects, including multimedia, in concert and on CD, including "Music for Lovely Souls (Beloved by Nature)" which led the orchestra to be awarded as the best Italian group from Top Jazz 2016 and invited to the Concerts of the Quirinale live on RadioTre (2017), and that of renewed civil commitment "We Resist!" recorded live at the Parco della Musica in Rome (2017), in addition to the tributes on the occasion of the centenary of Monk and Gillespie ("To Be or Not To Bop"), to crown a new affirmation at the Top Jazz 2018 as an Italian group of the year.
In 2019-2020 Lydian presented new projects, including "Mare 1519" and "Heretic Piano for Orchestra", also with new guests including Ambrose Akinmusire.
The current members of the orchestra are: Robert Bonisolo, Mauro Negri and Rossano Emili (sax and clarinets); Gianluca Carollo (trumpet), Roberto Rossi (trombone), Giovanni Hoffer (horn), Glauco Benedetti (tuba); Paolo Birro (piano), Marc Abrams (bass) and Mauro Beggio (drums), in addition to the young singer and rapper Vivian Grillo.
QUOTES:
Gian Mario Maletto (Musica Jazz, 2009): «…the genial musician from Vicenza, with his  devout Lydian sound Orchestra…».
Aldo Gianolio (Musica Jazz, 2007): «In a quite original way Brazzale magisterially succeedes in creating a rich, flamboyant, precious, combination of sounds, enhancing talented soloists who do their best».
Sergio Pasquandrea (Jazzit, 2007): «It's easy to be eclectic. It's hard to succeed in melting different influences and turn them into a personal language, as it happens in Back to Da Capo».
______________
Jerry D'Souza (Allaboutjazz, 2007): «Freedom and structure have made for comfortable bedfellows. …The Lydian Sound Orchestra makes music that is inventive and begs attention».
______________
Tim Stenhouse (Jazz Wise, 2007): «Riccardo Brazzale and Lydian Sound Orchestra conjured up the controlled anarchy of the Mingus Big Band perfectly».
______________
Don Albert (Finacial Mail, 2007): «… this 10-piece orchestra looks at the past with fresh and modern eyes. The arrangements are outstanding, filled with humour, musicality, strong soloists and a solid rhythm section. (…) It's intriguing and loses nothing in its translation into today's world of music. On all nine tracks, I found the music interesting, refreshing and exciting. If you're not stuck in the 1940s, and you're willing to listen to a new slant on historical melodies played with aplomb, then you'll appreciate this CD.
______________
Ubu Roi (George Russell Fest #6/2007): «A fantastic show by Lydian Sound Orchestra, an Italian All Star band with special guest Charles McPherson!»
______________
Steven Loewy (All music Guide, 2003) : «It is ironic that it took an Italian arranger by the name of Riccardo Brazzale, using a top-flight Italian jazz orchestra, to produce such a fine big-band tribute to American composer Thelonious Monk (…)».
______________
Stefano Merighi (Musica Jazz, 2003): «Natural respect, child-like enthusiasm, a reasonable deal of boldness: with this approach to Monk's works Brazzale manages to inbue the 1959 record "Monk at Town Hall" with his own personal touch».
______________
Domi Truffandier (Jazz Hot, 2003): «…Tout un programme, interprété par un big band de virtuoses qui négocient avec maestria les arrangements concotés par Brazzale, arrangements recherchés sans excès, qui respectent à la lettre l'esprit de Thelonious (…); Monk at Town Hall & More est un cd éminentement recomandable».
______________
Ira Gitler (Down Beat, 2002): «And that's the bottom line: Riccardo really scored his goal. Bravi LSO!»
Riccardo Brazzale is a low-key, soft-spoken, intellectual man. He is a writer, a teacher and musician who graduated from Bologna University with a thesis on Lennie Tristano and who gives his best in the joys of jazz. This is most evident when he is in the act of conducting an orchestra such as the one he led at the 2002 edition of the Vicenza Jazz Festival.
Every year Brazzale, the artistic director of the festival, weaves a concept titled "New Conversations" into the fabric of the overall program, basing an appreciable amount of performances on the music of one or more composers/players. In 2002 the "Conversations" were based primarily on the music of Thelonious Monk, ranging from cellist Ernst Reijseger holding his instrument like a guitar and plucking and strumming through Monk staples such as Reflections and Jackie-ing, to a passionate, athletic Brazzale guiding his ensemble in a recreation (and more) of Monk's celebrated Town Hall (New York) concert of 1959, immortalized in a recording on Riverside. In "Vicenza 2002" Paul Motian's Electric Bebop Band made up half the tentet with members of Brazzale's Lydian Sound Orchestra filling the other positions.
In early May, about a week or so before the festival, Brazzale presented a concert (based on the Town Hall Monk) with the Lydian Sound Orchestra at the Teatro Comunale in Thiene (Brazzale's birthplace – 1960), nearby Vicenza. Everything was recorded live: some at the afternoon rehearsal; others at the concert; and Little Rootie Tootie post concert because the sound technicians lost the ending due to tape failure during the actual concert (as incredibly happened at Town Hall in 1959).
This is not the first time Brazzale has chosen to interpret Monk. In 1993 a CD by the LSO entitled "Melodious Thunk" was issued on the Totem label. Among the 12 tracks there are five devoted to what is called the "Monk Suite". In the booklet notes Brazzale states that in the late 1980s the LSO was conceived and organized «to try to achieve that unique balance which is sought by the jazz I love best: the balance between improvisation and writing, subjective extemporaneity and collective interplay».
This is the path he follows in his homage to Monk, a man who wrote melodies so strong that they lend themselves to interpretation without losing their cores. «I wouldn't do something too close to the original», says Brazzale whose current background features collaborations with the best Italian jazzmen such as D'Andrea, Rava, Fresu, Trovesi, Fasoli and Intra, as well as the LSO. «I wanted to do something modern but still respecting Monk's spirit. I didn't want to distort him. This can be seen in the choice of the soloists too: some play in the tradition; others much less.». Brazzale's arrangements of the six Monk originals that were done at Town Hall also reflect this combination of reverence and adventure. «I drew inspiration from Hall Overton's arrangements (Overton did the orchestration for the Town Hall concert) and most of all from the way Monk played those themes at the piano», he explains. In Off Minor Riccardo utilized much of the format of the collaboration between Monk and John Coltrane. «You can hear it in the tenor sax theme and in the trumpet high notes», says Brazzale. «I slowed down the harmonies in Thelonious and especially in Monk's Mood. The mood of Friday the 13th tends to recall some of Mingus, ensembles or those of Gil Evans, last years. For Little Rootie Tootie I was inspired by Monk's stride style of the last recording in 1971 with Al McKibbon (bass) and Art Blakey (drums) on tour with The Giants of Jazz; and I used this style to orchestrate the famous solo of the first 1952 recording with Blakey (and Gary Mapp, bass). I have the trumpets, saxes and guitar chasing the leading line in a sort of counterpoint.» (The transcription of the solo was first done by Overton for the 1959 concert.) (…) Riccardo really scored his goal. Bravi LSO!
Ira Gitler (New York City, September 2002)
______________
"It is ironic that it took an Italian arranger by the name of Riccardo Brazzale, using a top-flight Italian jazz orchestra, to produce such a fine big-band tribute to American composer Thelonious Monk. Occasionally others, of course, such as T.S. Monk, have successfully engaged in big-band tributes, but this one, Monk at Town Hall & More, is distinguished by its use of transcriptions from Hall Overton's arrangements from the classic 1959 Town Hall concert that were reinterpreted by Brazzale. The tentet organized by Brazzale includes some of Italy's best musicians, with Pietro Tonolo on soprano sax and Roberto Rossi on trombone, while trumpeter Kyle Gregory adds some tasty solos on trumpet. In addition to tunes by Thelonious Monk, the band adds a loving version of "Abide With Me" and a short piece by Brazzale entitled "Additional C. Q. Six." Highlights include some impressive soloing by pianist Paolo Birro, who plays the Monk role smartly by not aping him; and a lyrical Rossi, who is heard on several tracks to good advantage. Although the new arrangements are an exciting concept, Brazzale is somewhat too respectful; he might have opted occasionally to pursue different avenues while remaining true to Monk's spirit. While the results are almost always of superior quality and many of the solos are first-rate, the talented Brazzale takes his cue directly from the 1959 set, resulting in uniformly high standards but lacking on occasion the high-spirited sense of wonder that infused Monk's music. (2003 – CD Abeat ABJZ 013)
Steven Loewy (www.organissimo.org/forum – AMG, All Music Guide, 2003)
______________
Natural respect, child-like enthusiasm, a reasonable deal of boldness: with this approach to Monk's works Brazzale manages to inbue the 1959 record "Monk at Town Hall" with his own personal touch. That record was the first pretty successful attempt to enlighten Monk's conceptions for trio or combo from an orchestral standpoint.~At that time the pianist relied on Hall Overton: a far from ultramodern arranger yet good enough in refraining from exaggerations and preserving the charachteristics of such a rough and seductive kind of music.~Brazzale follows those teachings adding some spices here and there. Listen to~Little Rootie Tootie~without overindulging in pedantic comparisons: in Lydian's version the theme has a different flavour. There's a kind of deliberate ironic lightness introducing Emili and Gregory's solos (very modern), Birro's piano interlude (he had~lagged behind~during the trumpet phrases), Tonolo's
soprano (a bit Lacyan) and the triumphal finale where the orchestra draws on the transcription of Monk's piano~performance in the~1952 Prestige version: everything is very beautiful.Equally brilliant are other moments of this sharp reworking. The lineup is the same in number as the original one: sometimes a soprano sax, a flugelhorn, a pocket trumpet are added (even more elated is the version Brazzale presented in those days at "New Conversations-Vicenza jazz" festival with Paul Motian replacing Beggio on drums). Among the soloists, all up to their tasks, a special praise goes to Emili. The very detailed liner notes are written with mastery by Ira Gitler.
Stefano Merighi (Musica Jazz,~July 2003 issue review)
______________
…Tout un programme, intyerprété par un big band de virtuoses qui négocient avec maestria les arrangements concotés par Brazzale, arrangements recherchés sans excès, qui respectent à la lettre l'esprit de Thelonious: voir l'exposé à la malice toute monkienne de «Little Rootie Tootie» (que clòt une verion orchestrale du solo de piano del 1959), les textures riches et soyeuses qui habillent «Monk's Mood» ou, plus inattendu, l'arrière-plan d'anches et tuba sur «In Walked Bud», qui reprend en partie l'accompagnement de Dave Brubeck au solo de Paul Desmond sur «Take Five»; pour «Abide with Me» enfin, Brazzale s'est inspiré des trouvailles harmoniques du plus swinguant des baroques, l'ami Johann- Sebastian Bach! Voilà pur l'ensemble: mais comme tout orchestre qui se respect doit comprendre ne serait-ce qu'une poignée de solistes intéressants, penchons-nous sur les individualités. Il y a là Paolo Birro, irrésistible, qui se pose sur «Thelonious» ou «Little Rootie Tootie» (en solo intégral) comme un intéressant suiveur de Monk, Kyle Gregory l'avant-guardiste (voir son solo à la trompette sur «Off Miinor»), Roberto Rossi, tromboniste velouté, Marc Abrams (superbe sur «Off Minor», le vigoreux Rossano Emili et Robert Bonisolo- avec un nom pareilò, comment n'attendrait-il pas à l'excellece sur «Off Minor» et «Friday th 13th» ? D'aucune apprécieront moins l'intervention assez fade de Pietro Tonolo au soprano sur «Little Rootie Tootie» et la guitar un poil trop électrique de Michele Calgaro, auteur toutefois d'un bon passage en octaves agressives sur «In Walked Bud»… Bilan largement positif donc; Mok at Town Hall & More est un cd éminentement recomandable.
Domi Truffandier (Jazz Hot, Paris, 2003)
David Murray & Lydian Sound Orchestra – Torino Jazz festival
David Murray Quartet – Morning Song
David Murray feat. Saul Williams 'Blues for Memo' (USA) @ Porgy & Bess, Vienna Sa 10. Februar 2018.
Lydian Sound Orchestra "FREEDOM DAY"