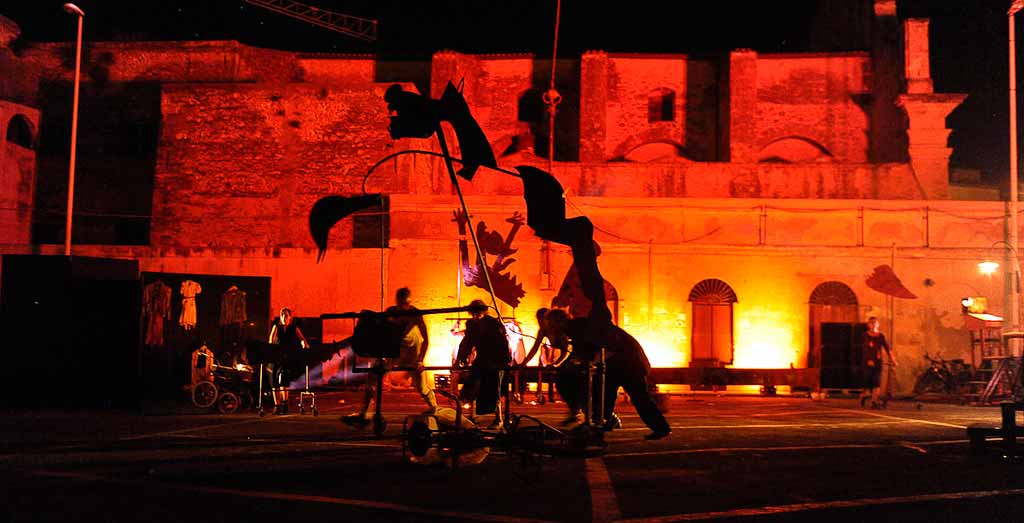 05 мај

Pozorišna "Gernika" otvara Nišville!
Pozorišna "Gernika" otvara Nišville!
Pozorišna "Gernika" otvara Nišville – Ovogodišnji Nišville imaće specijalni uvod u vidu 14 pozorišnih predstava iz zemlje i inostranstva, što će praktično biti i prvi međunarodni pozoršni festival u ovom delu zemlje.
Internacionalni Nisville Jazz Teatarski Festival objedinjuje dugogodišnju potrebu da se u Nišu formira i započne svoj život jedan ovakav festival koji bi , osim što je internacionalan, bio i festival savremenog teatrskog izraza koj,i kao i jazz počinje krajem XIX veka i nastavlja svoj razvoj do danas. To je teatarski, scenski izraz koji sem dramskog teksta koristi muziku u svim njenim oblicima, pokret, fotogragiju, sliku ili video rad. Seme začetka ove ideje, je renomiran, izuzetno kvalitetn i internacionalno prepoznatljiv Nišville Jazz Festivala koji kroz izuzetno kvalitetne izvođače, umetnike jazz muzike već godinama uspešno predstavlja najznačajnije umetnike iz celog Sveta, probija granice naše zemlje stavljajući je na visoku lestvicu, medju 10 najboljih festivala u Evropi. Niš tada postaje centar visoko kvalitetnog kulturnog okupljanja svetskog nivoa, grad koju posećuju sve genaracije publike, kako iz zemlje tako i inostranstva.
Umetnička direktorka i selektorka tetarskog programa Nišville jazz festivala – beogradska glumica, inače rođena Mišlijka – Maja Mitić, zamenica direktora beogradskog Dah Teatra – Centra za pozorišna istraživanja – naglašava činjenicu da u ovom delu zemlje ne postoji teatarski festival međunarodnog karaktera, pogotovo ne savremenih tendencija XX i XXI veka.
-Pokretanjem Internacionalnog teatrskog festivala savremenog izraza pridružujemo se i glavnoj smernici naše države za decentralizaciju Srbije. Na osnovama koje jazz festival promoviše poput slobode, jednakosti, tolerancije, Teatrski Festival će se osloniti i biti prirodan partner istih vrednosti.
Festival traje od 06.08. do 13.08.2017. Poslednja četiri dana, odnosno, u periodu od 10. do 13. avgusta potorišni program će se preklopiti sa glavnim programom jazz festivala. Svoj dolazak su potvrdile pozorišne trupe iz Italije, SAD, Francuske, Madjarske, Norveške, Bugarske…
Zajednički imenitelj ovog festival je da se u predstavama koristi muzika koja se oslanja na jazz, njegove inspiracije, početke ili savremeni izraz u bilo kom obliku. Selekcija objedinjuje i večernju i scenu za decu, ali i bebe. Forme ovog festivala su od spektakla, teatra na zadati tekst, uličnih performansa, cirkusa, plesa ili predstava izložbi. Tokom festival će se odvijati kulturološka razmena umetnika u formama demonstracija rada, prezentacija, predavanja i okruglih stolova. U popodnevnim časovima biće organizovane radionice za studente umetničkih fakulteta, ljude zainteresovane za ovaj oblik umetnosti na teme: javni prostor kao scena, veza izmedju performansa, koncerta i predstave, pozorišne instalacije, koncert kao predstava.
Planirana je i umetnička razmena u formi rada i spajanja već postojaćeg skeleta predstave Italijanske grupe "En Vol" iz grada Sasari na Sardiniji, sa lokalnim umetnicima iz Niša i umetnicima iz Beograda. To je predstava – spektakl "Gernika", čija se 80. godišnjica od bombardovanja obeležava baš ove godine. Preko 20 ljudi će se pre početka festival u Nišu okupiti kako bi uradili ovu predstavu koj će i otvoriti ovogodišnji teatarski festival.