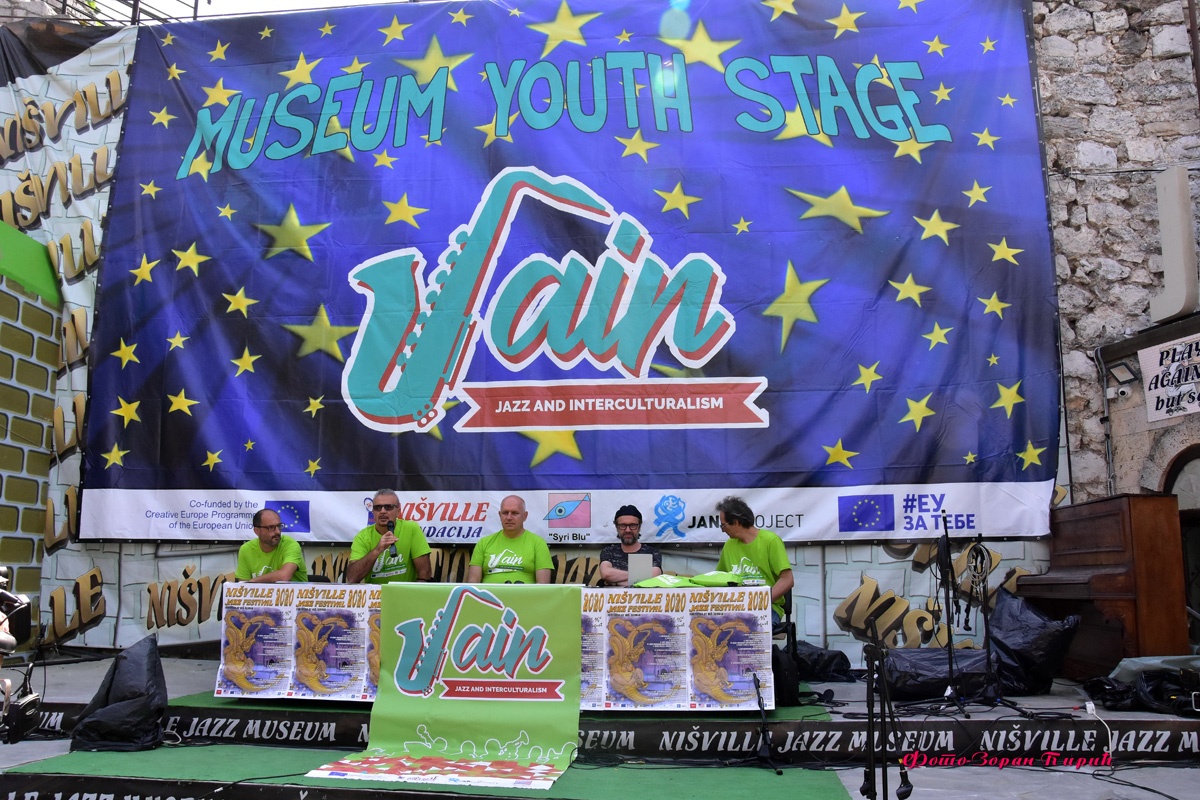 20 сеп

JAIN projekat "Kreativne Evrope" na Nišvilu
Mladi džezeri oduševili publiku
JAIN projekat "Kreativne Evrope" na Nišvilu
U sklopu septembarskog izdanja Nišvila sinoć (subota, 19. avgust) nastupili su mladi džez muzičari okupljeni oko projekta JAIN ("Jazz i interkulturalizam") koji je podržan od strane programa Evropske Unije "Kreativna Evropa".
Utisci publike posle pojedinačnog predstavljanja grupa iz svake zemlje i zajedničkog nastupa na kraju programa, bili su da je to sigurno jedan od najupečatljivijih, najenergičnijih i najemotivnijih nastupa na Nišville festivalu tokom prethodnih godina.
JAIN projekat okuplja mlade muzičare iz Srbije, Albanije i Italije, a ovonedeljni susret u Nišu je početak drugog kruga upoznavanja (pošto se svake godine okupljaju novi sastavi), zajedničkih proba i nastupa, jer će mladi džezeri nastaviti druženje i muziciranje već za nedelju dana u Tirani, a onda tokom oktobra i na Sardiniji. Nosilac ovog projekta je "Nišville Fondacija", a partneri su organizacije "Syri Blu" iz Tirane i "Jana project" sa Sardinije.
Podsećamo da je prvi krug ovog projekta održan prošle godine druženjem i koncertima u Nišu tokom Nišvila, zatim septembra na Sardiniji u sklopu festivala "Musica Sulle Bocche" i oktobra, kao deo programa festivala "Jazz in Albania".
U sklopu ovogodišnjeg susreta u Nišu, osim završnog koncerta, zajedničkih proba i jazz radionica koje su držali iskusni džez muzičari – umetnici u rezidenciji, juče je održana i press konferencija i tribina na kojoj su predstavnici organizatora napravili rekapitulaciju dosadašnjih aktivnosti i najavili ono što će uslediti do kraja projekta, a sami učesnici – mladi muzičari izneli utiske o boravku u Nišu i najavili predstojeće nastupe.
Septembarsko izdanje Nišvilla večeras se i zvanično završava nakon nastupa grupe Artan lili – pretponoćnim vatrometom uz zvuke numere "Kad sveci marširaju" (When the saints go marchin` in) u izvođenju Duvačkog orkestra Gorana Cekića sa centralne kule Niške Tvrđave.