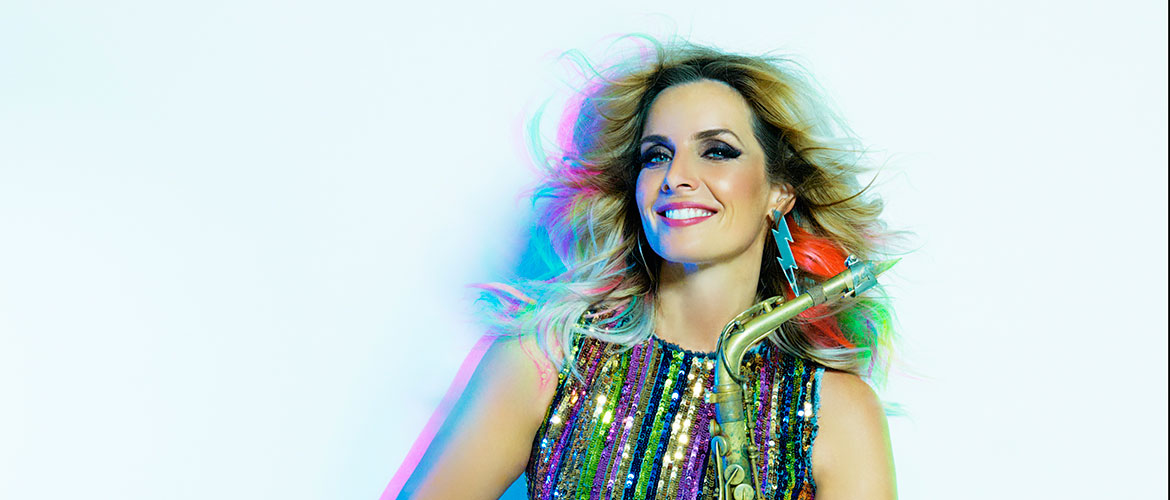 05 мај

Candy Dulfer na Nišvillu 2017!
Candy Dulfer na Nišvillu 2017!
Candy Dulfer na Nišvillu 2017! Candy Dulfer je tokom poslednje dve decenije u svetskim razmerama sigurno najistaknutiji instrumentalista lepšeg pola u domenu funk muzike i smooth jazza, ali i potvrda da izuzetno atraktivan izgled itekako ide zajedno sa vrhunskim talentom i kreativnošću.
Ćerka je poznatog holandskog jazz saksofoniste Hansa Dulfera, koji joj je, na njeno insistiranje, i dao prve časove na saksofona kada je imala samo šest godina. Pošto je očev tenor bio prevelik za devojčicu tog uzrasta, počela je na sopranu, da bi već koju godinu kasnije prešla na alt saksofon – instrument kojem je ostala verna do danas i na kojem je izgradila reputaciju vrhunskog stiliste. Posle svega nekoliko meseci učenja i članstva u lokalnom brass bendu, izašla je na scenu sa orkestrom svog oca kada je odsvirala i prva sola.
Candy Dulfer Kratka Biografija
Vatreno krštenje u studiju imala je takođe sa očevim orkestrom 1980. godine (kada joj je bilo 11 godina) a već sledeće godine je natupila i na poznatom North Sea jazz Festivalu sa bendom Ladies Horn Section koji je predvodila Rosa King. Upravo je Rosa ohrabrila Candy da i sama postane band leader, pa sa 14 godina osniva svoj sastav Funky Stuff koji ubrzo stiče ogromnu popularnost u Holandiji. Bend je trebalo da nastupi pre Princa na tri koncerta u Holandiji, ali je ovaj u poslednjem trenutku otkazao predgrupu. Legenda kaže da mu je Candy napisala pismo u kojem mu je rekla da je propustio jedinstvenu priliku da vidi curu koja "prži" na saksofonu. Legendarni muzičar joj se nakon toga izvinio i pozvao da mu se pridruži na na sceni u jednom improvizovanom bluzu. Prince, koga su naročito u to vreme zvali i "His Royal Badness", je bio oduševljen, i pozvao Candy da mu se pridruži u Americi gde mu je ona gostovala kako na koncertima i TV nastupima, tako i na snimanjima albuma i muzike za film, ali i odbila da postane stalni član njegovog benda za predstojeću svetsku turneju, ali je njihova saradnja nastavljena sve do nedavne smrti velikog muzičara. Neposredno pred odlazak u Ameriku, Candy je snimala sa Dave-om Stewart-om iz grupe Euritmics, a njihova kompozicija "Lilly was here" napravljena za istoimeni film postaje verovatno najpopularnija instrumentalna numera tokom poslednje dve dekade 20. veka, što je bila i odlična uvertira za njen prvi solo album "Saxuality" koji postaje svetski hit i ulazi u najuži izbor za nagradu Grammy.
Usledio je i poziv za saradnju od strane velikog Vana Morisona (kojem je kasnije gostovala i na antologijskom živom albumu "Live in San Francisco"), a te iste 1990. godine svirala je sola u "Money" i "Shine on You Crazy Diamond"sa grupom Pink Floyd na Knebworth festivalu pred 130.000 posetilaca…
Na spisku muzičara sa kojima je nastupala i snimala su i Maceo Parker, Sheila E, Mavis Staples, Beyonce, Pink Floyd, Chaka Khan, David Sanborn, Larry Graham, Marcus Miller, Aretha Franklin, Jimmy Cliff, George Duke, Blondie, Jools Holland, Jammie Cullum, Angie Stone, Tower of Power, Alan Parson, Fred Wesley, Joey DiFrancesco, Jonathan Butler…
Novo poglavlje u karijeri otvorila je na jesen 2011. godine albumom "Crazy" koji je producirao muzički direktor grupe Black Eyed Peas, nakon kojeg je usledila turneja koja je obuhvatila USA, Japan, Rusiju i prvi put Južnu Ameriku. Takođe, otpočela je saradnju sa modnim brendom "Mexx" a 2013. godine je bila ćlan žirija i talent coach holandskog X- faktora, a sa dugogodišnjim prijateljicama Trijntje Oosterhuis, Edsilia Rombley, Berget Lewis i Glennis Grace pokreće supergrupu "Ladies of Soul", sa kojom je početkom ove godine održala dva rasprodata koncerta u amsterdamskoj Ziggo Dome arena pred 34.000 posetilaca, što je zabeleženo na albumu i DVD-u "Live at the Ziggo Dome" koji je stigao do prvih mesta top lista.
Nišville je, inače, uputio predlog Skupštini grada Niša da na nekoj od narednih sednica dodeli Candy Dulfer status počasne građanke grada Niša a zbog njenog doprinosa promociji Nišvila i Grada Niša – pre svega u svojoj rodnoj Holandiji. Candy je, prema rečima direktora Nišvila Ivana Blagojevića, u svojim mnogim medijskim nastupima promovisala jedinstvenost Nišville jazz festivala, koji je ove godine uticajni britanski "Guardian" svrstao u Top 10 evropskih jazz festivala. Posebno je naglašavala atmosferu festivala, jedinstvenu publiku i gostoljubivost građana Niša. Direktor festivala kaže da se nada da će Skupština Grada Niša doneti pozitivnu odluku i da će titula počasnog građanina Niša Candy Dulfer biti uručena 13. avgusta na zatvaranju Nišvila. Takođe – dodaje Blagojević – već su počeli i dogovori da za ovaj specijalni nastup u Nišu Candy dovede i specijalnog gosta, odnosno nekog od poznatih muzičara sa kojim je sarađivala tokom izuzetno bogate karijere.