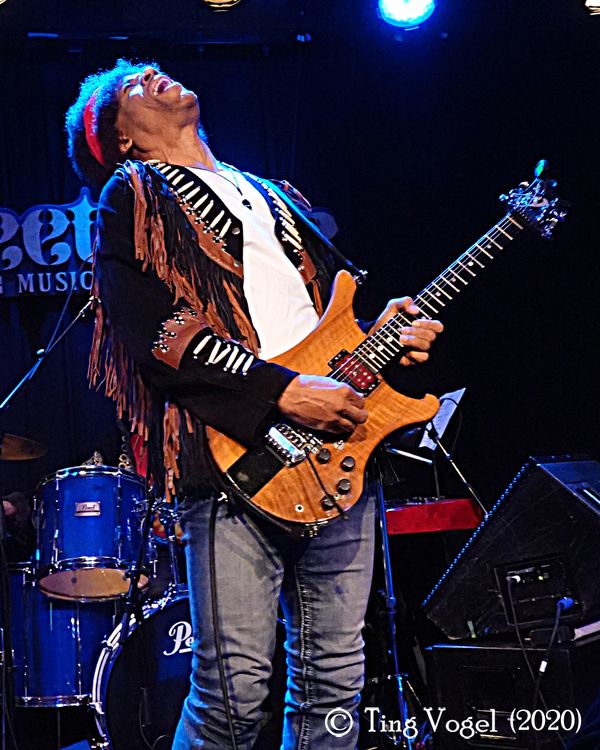 19 јул

Stanley  Jordan svira Hendrixa!
Legenda jazz gitare odaje počast legendi rock gitare
Stanley  Jordan svira Hendrixa!
Poslednjih decenija jedan od najaktuelnijih jazz gitarista Stanley Jordan, poznat po svojoj "taping" a moglo bi se reći i "klavirskoj" tehnici sviranja gitare obema rukama na vratu gitare – predstaviće na na Nišvilu program: "Stanley plays Jimi" – kojim odaje počast i obeležava 50 godina od smrti sigurno najoriginalnijeg rock gitariste Jimija Hendrixa, ali i njegovog legendarnog nastupa na Wodstock festivalu. U klasičnoh "hendrixovskoj" formaciji trija (Laurence Cottle – bass i Gabor Dornyei – bubnjevi), Stanley Jordan će nastupiti u petak 13. avgusta.
Iako i sam Jordan kaže da ovo jeste "tribute" program (pa je u sklopu toga na bini i obučen kao Hendrix) to je ipak daleko iznad puke imitacije, jer se on svojom kreativnošću nadovezuje na Jimijevo nasleđe. "Ovo je, kaže Jordan, neka vrsta fantazijskog koncerta –odnosno moje viđenje kako bi Hedndriks, da je živ – svirao danas. Stanley Jordan iza sebe ima 4 Grammy nominacije, rasprodate koncerte širom sveta, milionske tiraže albuma, od kojih je recimo samo debi album iz 1985. godine "Magic Touch" proveo pedeset i jednu (!) nedelju na prvom mestu Bilbordove jazz liste, a svirao je i snimao sa takvim imenima kao što su Benny Carter, Dizzy Gillespie, Miles Davis, Billy Cobham… Zbog svega toga njegov "hommage" Hendrix-u može izgledati kao iznenadjenje – ali samo na prvi pogled! Poslednjih godina je dosta nastupao i sa rokerima (Dave Matthews Band, Umphrey's McGee, Moe ), tako da je kako sam kaže povratak rok korenima za njega predstavljao prtavo umetničko uživanje – što sada podižeiI na novi nivo.   "Uvek sam, kaže Jordan, osećao snažnu povezanost sa Hendrixom – on je bio prvi gitarista kojeg sam oponašao kao klinac. Pre nego što sam se okrenuo džezu, slušao sam rok muziku, a upravo me je Hendriksova muzika i usmerila ka džezu". Jer, poznato je da je Hendrix (koji je za samo tri godine promenio rock scenu kao niko pre i niko posle njega) "džemovao" sa nekim izuzetnim  džezerima (Rasaan Roland Kirk, Larry Young…), a imao i dogovorena sminanja sa Milesom Davisom i Gilom Evansom. Da nije iznenada preminuo i u trenutku kada je njegova kreativnost bila u izrazito uzlaznoj putanji – možemo samo da pretpostavimo u kom bi pravcu otišla njegova muzika. " Možete ga čuti, kaže Stanley Jordan, kako obogaćuje i širi svoj muzički rečnik, takoreći od snimka do snimka, albuma do albuma – što je za mene kao klinca bilo izuzetno podsticajno. Takođe, neke od njegovih kompozicija poput "Up from the Skies", '"Belly Button Window" (…)  imaju izraziti jazz prizvuk.  I upravo je to ono što pokušavam da nadgradim".
Stanley Jordan takođe naglašava da je ideju da se okrene "taping" tehnici mu je donelo svetsku slavu (mada izvodeći ovaj program, osim što i veoma uverljivo peva, dosta svira i "klasičnom" rok tehnihom, odnosno trzalicom u desnoj ruci!) dobio upravo od Hendrixa: "Gledao sam ga kako svira samo levom rukom, bez okidanja žica, a onda sam u jednom trenutku shvatio da bih mogao da na vratu upotrebim i desnu ruku" – kaže Jordan.
S obzirom na to da ni Hendrixu elektronska pomagala nisu bila nepoznanica Stanley Jordan takođe koristi "feedback" (mikrofoniju) i neke od efekata (Wah- wah) koje je koristio i Hendrix. Međutim, naglašava da izbegava "novotarije" poput sekvencera ili unapred snimljenih deonica – jer ni Hendrix sigurnio ne bi išao tim putem. "Za Jimija elektronika nija bila sama sebi cilj, već sredstvo za postizanje cilja – neka vrsta  produžetka instrumenta i kanal njegovog duha". Osim Hendrixovih kompozicija  na programu je i nekoliko originalnih Jordanovih numera, nastalih  kroz sagledavanje Hendrixovog nasleđa ali i kroz tumačenje nagoveštaje šta bi i kako on danas mogao da stvara.
Ako neki gitarista, i na osnovu tehnike ali i na osnovu invencije "a priori" zaslužuje bespogovorno  pravo da se "uhvati u koštac" sa Hendrixom – onda je to svakako Stanley Jordan.
Video for promo: Voodoo Child