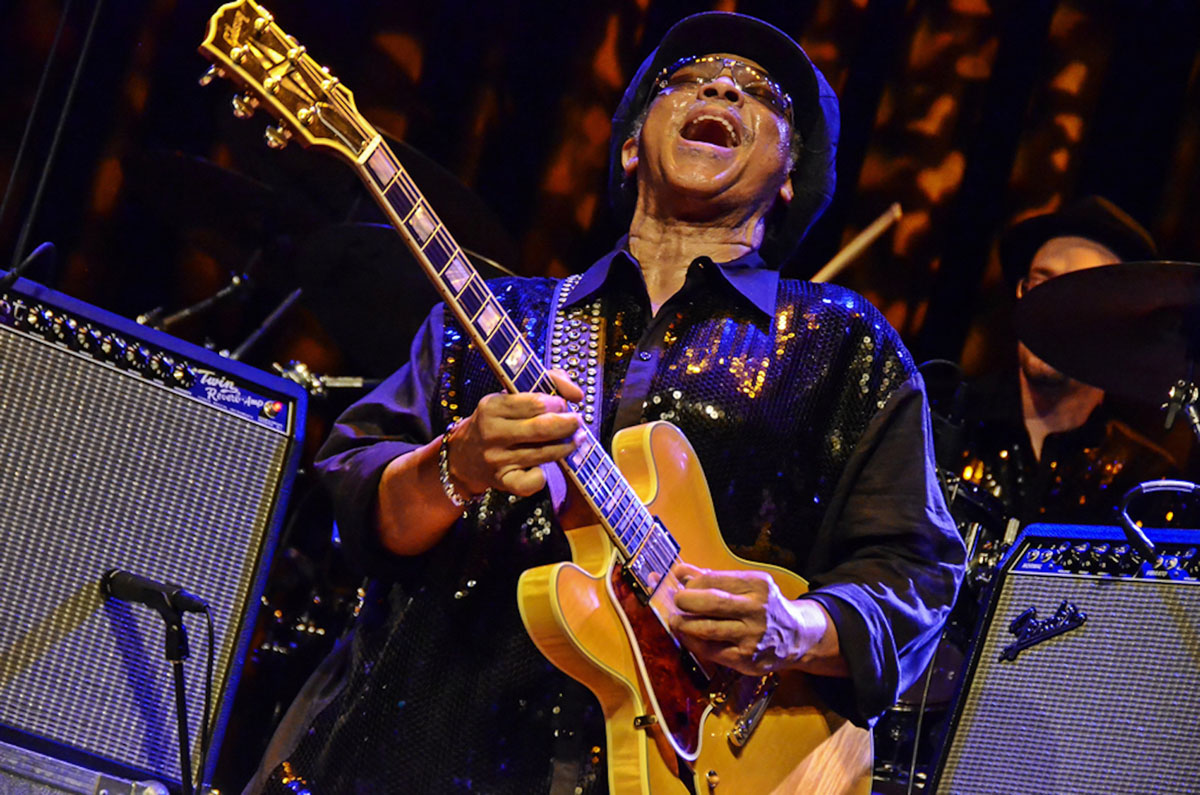 03 јул

Earth, wind and fire Experience ft. Al McKay otvaraju Nišville
Legende R'n'B i fanka dolazu u Srbiju
Earth, wind and fire Experience ft. Al McKay otvaraju Nišville
Earth, wind and fire Experience koji predvodi čuveni američki gitarista, autor i producent Al McKay,  dobitnik više Grammy nagrada – nastupiće na otvaranju ovogodišnjeg Nišvila – 12. avgusta.  Sam ili zajedno sa pevačem "Earth Wind and Fire" Maurice White-om, McKay je autor nekih od njihovih najvećih hitova uključujući i "September", "Happy Feeling", "Sunshine" (…) a sa White-om je producirao još neke od planetarnih hitova među kojima se izdvaja "Boogie Wonderland". Program "Al McKay´s Earth, Wind & Fire Experience" je posvećen godinama koje je McKay proveo u u Earth Wind and Fire – jednom od najinovativnijih i komercijalno najuspešnijih bendova svih vremena. Uticajni Rolling Stone ih je nazvao "inovativnim, preciznim, a opet senzualnim, proračunatim i…. ispoliranim",  uz konstataciju da je bend "promenio zvuk crnog popa. Jedan od najvećih bendova svih vremena".
Al McKay je u grupi Earth wind and fire proveo osam zlatnih godina (1973 – 1981) tokom kojih su nastali mnogi od velikih hitova ove grupe koja je kombinujući  R&B, soul, funk, jazz, disco, pop, dance, latin, i afro pop stvorila autentičan stil i zvuk. McKay se priseća da su osnivač i pevač EWF Maurice White i on, neke od najboljih pesama napisali dok su se u garderobi – tj sobi za štimovanje  – pripremali za nastupe. "Ja bih počeo da nešto improvizujem a Maurice bi preko toga počeo da peva – tako su nastale pesme "Sing A Song", 'Best of My Love" za grupu The Emotions…-  kaže McKay i ističe da ga je upravo White (koji je zbog Parkinsonove bolesti prestao sa nastupima 1994 godine, a preminuo 2016.)  podsticao da se bavi komponovanjem, tako da je na repertoaru i dosta novih kompozicija koje su postale hitovi: "Heed the Message", "Don't think twice when your feeling is right",  "Try meditation" Love is the calling".
Kada su početkom osamdesetih EWF otišli na "dužu pauzu" McKay je želeo da nastavi nastavi u tradiciji benda i oformio svoju grupu u koju je doveo mnoge originalne članove Earth Wind and Fire (uključujući tada i uticajnog basistu Verdine-a White-a), sa kojom već decenijama uspešno snima i nastupa na vodećim evropskim festivalima, uključujući i poznate jazz festivale kao što su Marciac i Montreux – održavajući, a često i prevazilčazeći visoki standard kvaliteta živih nastupa tokom zlatnih EWF godina.
Al MCKay je pratio mnoga velika imena fank, soul, funk, pop muzike među kojima su i Sammy Davis Junior (koji ga je angažovao kada je čuo Alovo majstorstvo u korišćenju tada novog efekta: wah – wah pedale), Pearl Bailey, Andy Williams, Isaac Hayes, ali svirao i snimao sa važnim jazz muzičarima kao što su Gene Harris, Eddie Henderson, Patrice Rushen,  Ramsey Lewis, Herbie Hancock, Norman Brown, a producirao je albume Temptationsa i Shirley Jones.
Članovi aktualne postave AL McKay´s Earth, Wind & Fire Experience su Al McKay (gitara), Tim Owens (vokal), DeVere Duckett, (vokal), Claude Woods (vokal), James Manning (bas gitara), Ben Dowling (klavijature), David Iwataki (klavijature), Anthony Beverly (bubnjevi), David Leach (udaraljke), Joel Nunez
(saksofon), Luis Gonzales (truba), Omar Peralta (truba) i Shaunte Palmer (trombon).
Tinejdžer u Ike & Tina Turner bandu
Prvi angažman – i to kakav – dobio je sa 18 godina, odmah po završetku srednje škole. Drug ga je odveo na probu Ike & Tina Turner  benda, a oni su tada uvežbavali pesmu Temptationsa  "Losing You". Ike je tvrdio da uvodni deo sviraju dve gitare, a McKay je, pošto je i sam skidao taj uvod, glasno prokomentarisao da je to samo jedna gitara. Muzičari su u tišini pogledali školarca koji je dobacivao velikom (i ćudljivom!) Ajku, koji je namršteno rekao: "Stvarno?! Da ne znaš možda i da odsviraš". Al je prokomentarisao: "Ok, ja sam levoruk, ali pokušaću da odsviram ne premeštajući žice" …. Okrenuo je gitaru i odsvirao deo za koji je Ike mislio da su dve giatre. "Sledećeg dana sam dobio poziv od Ajka koji je rekao da od juče više ne traži gitaristu i pozvao me da se pridržim bendu na turneji" – priseća se Al MCKay. Inače, Ike i Tina Turner su pre toga u bendu već imali jednog levorukog gitaristu koji se zvao Jimi Hendrix.
Al McKay po drugi put među Srbima
Al McKay je pre nešto više od četiri ipo decenije (1975) svirao u beogradskoj hali Pionir kao član najbolje postave Earth, Wind and Fire (što je bila njihova prva evropska turneja) kao predgrupa Santani… i po svim ocenama tada još uvek malo poznati bend je "ukrao šou" slavnom gitaristi – kako fantastičnom svirkom, tako i specijalnim efektima.  Mnogi koji su bili na tom koncertu i danas se pitaju kako je izveden efekat da se podijum sa kompletom bubnjeva okretao oko svoje horizontalne ose,  tako da su bubnjevi (i bubnjar za setom, naravno)  u jednom trenutku bili okrenuti naglavačke!
Video: "Al McKay´s Earth, Wind & Fire Experience" na Montreux jazz festivalu