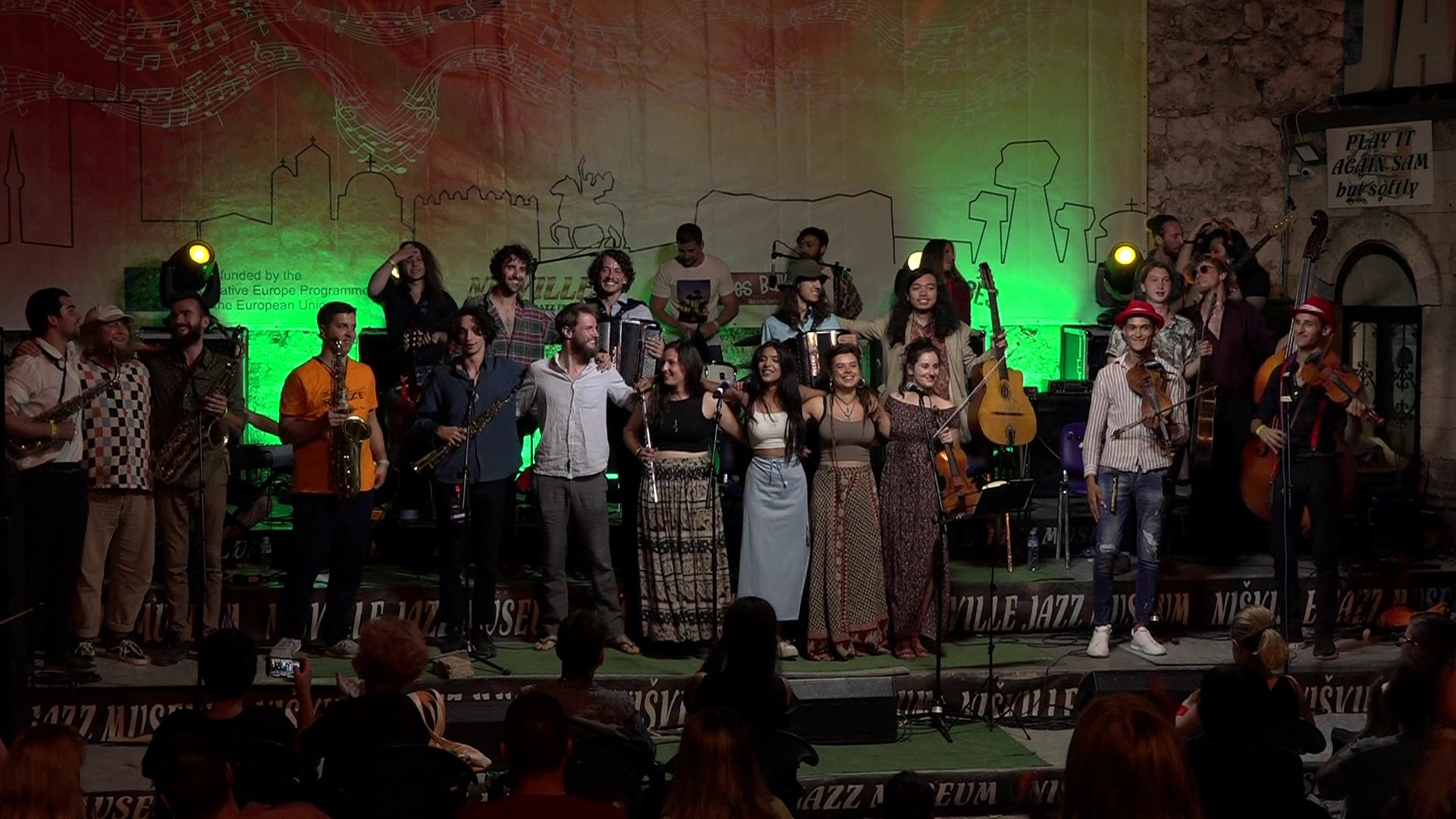 06 jan

Nišville aprila u Briselu
Projekat ROJAZE Nišville fondacije i partnera iz Francuske i Belgije
Nišville aprila u Bselu
Nišville jazz festival predstaviće svoj sastav mladih muzičara okupljenih u sklopu projekta ROJAZE 26. aprila ove godine na festivalu "Balkan Trafik" u Briselu ( www.balkantrafik.com/line-up ). Na ovom festivalu, čiji je organizator asocijacija "1001 Valises" iz Brisela – jedan od partnera na projektu – između ostalih nastupaju i: Goran Bregović (koji predstavlja svoja dva projekta: The Best of Goran Bregović sa velikim sastavom i "Tri pisma iz Sarajeva" sa manjim sastavom), sastav "Rasta Zeneca" u kojem nastupaju i Nele Karajlić i Amparo Sančez, "Balkan Jazzović ft. Teodosi Spasov, "The Last Original Balkan All Stars" tridesetičlani orkestar u kojem su mnoge zvezde radicionalne muzike iz Makedonije, Bugarske, Srbije, Rumunij… među kojima i Ferus Mustafov Tcha Limberg, Amza Tairov….
Odmah nakon "Balkan Trafik" festival u Briselu – cela ekipa projekta ROJAZE odlazi u Francusku gde će nastupiti u sklopu festivala "Welcome in Tziganie".
Projekat "ROJAZE Roma jazzing Europe", podržan od EU programa "Kreativna Evropa", zajednički organizuju i realizuju organizacije "L' Air des Balkans" – Seisan (Francuska), "100 Valises" –Brisel (Belgija) i Nišville Fondacija – Niš (Srbija). Projekat tokom dve godine okuplja po osam mladih muzičara romske i neromskih nacionalnosti iz sve tri zemlje. Prvo okupljanje bilo je na Nišvillu 2021 a mladi muzičari su tokom desetodnevnog boravka u Nišu, uz pomoć muzičkih koordinatora iz sve tri zemlje i umetnika u rezidenciji – iskusnih džez muzičara iz Francuske i Belgije – uvežbavali zajednički program, čiji jedan deo izveden u sklopu programa "Prijatelji Šabanu" na River stage-u 11. avgusta. Centralni program projekta "ROJAZE" izveden je na Museum – Youth stage-u 14. avgusta gde se se u sklopu celovečernjeg programa, osim zajedničkog nastupa – na kraju programa, sastavi iz sve tri zemlje prethodno predstavitl i svojim pojedinačnim programima koje su od početka proleća uvežbavali, svako u svojoj zemlji, a pod supervizijom muzičkih koordinatora.
S obzirom na to da su i partnerske organizacije iz Fransuske i Belgije takođe organizatori muzičkih festivala ("Welcome in Tziganie" – u Fransuskoj i "Balkan Traffic"- u Belgiji) koji svoje programe pre svega baziraju na romskoj muzici, odnosnoi, muzici Balkana – sledeća oklupljanja dvadesetčetvoro maldih muzičara dogodiće se upravo tokom narednih izdanja ovih festivala – sredinom proleća 2022. godine. Drugi krug projekta, sa novom ekipom od dvadesetčetvoro mladih muzičara započeće na Nišvillu 2022, a završiće u Francuskoj i Belgiji tokom prve polovine 2023. godine.
Opšti cilj projekta je da se olakša kreativnost i otvorena umetnička razmena mladih romskih džez muzičara povezujući ih sa muzičkom omladinom različitog kulturnog, socijalnog, ekonomskog i geografskog porekla, razvijajući različite nivoe međukulturnog dijaloga, međukulturne saradnje i prekograničnog kretanja, povezujući Francusku, Belgiju i Srbiju. Takođe, uključivanjem romske i neromske muzičke omladine (18-32 godine) iz ove tri zemlje, povećaće se interkulturalni dijalog i svest o bogatstvu različitih romskih etničkih grupa i njihovom kulturnom uticaju naevropsku džez muziku. Organizovanje kulturnih događaja zasnovanih na bogatstvu različitog romskog uticaja na evropsku džez muziku ojačaće evropsko osećanje pripadnosti romske i neromske omladine iz Francuske, Belgije i Srbije i povećati svest da kultura predstavlja suštinski deo evropskog identitetskog mozaika kojem svi oni teže.
Kada je reč o umetničkom – muzičkom aspektu programa, ideja je da svaki sastav predstavi romsku muzičku tradiciju svoje zemlje (odnosno, svog regiona Evrope) interpretiranu rečnikom džeza. S obzirom da će, kada je reč o zajedničkom programu, na repertroaru biti kompozicije iz sve tri zemlje, a na osnovu predloga samih mladih muzičara i njihovih koordinatora – to će biti i prilika da mladi muzičari iz Srbije bolje upoznaju tradiciju "Manouche jazza" ili "Gypsy swinga" – autohtonih stilova karakterističnih upravo za Rome iz Belgije i Francuske, a da se Berlgijanci i Francuzi upoznaju sa romskom muzičkom tradicijom Serbije i, između ostalog, usavrše nepravilne ritmove karakteristične za Balkan.