Charlatan Magnifique 2016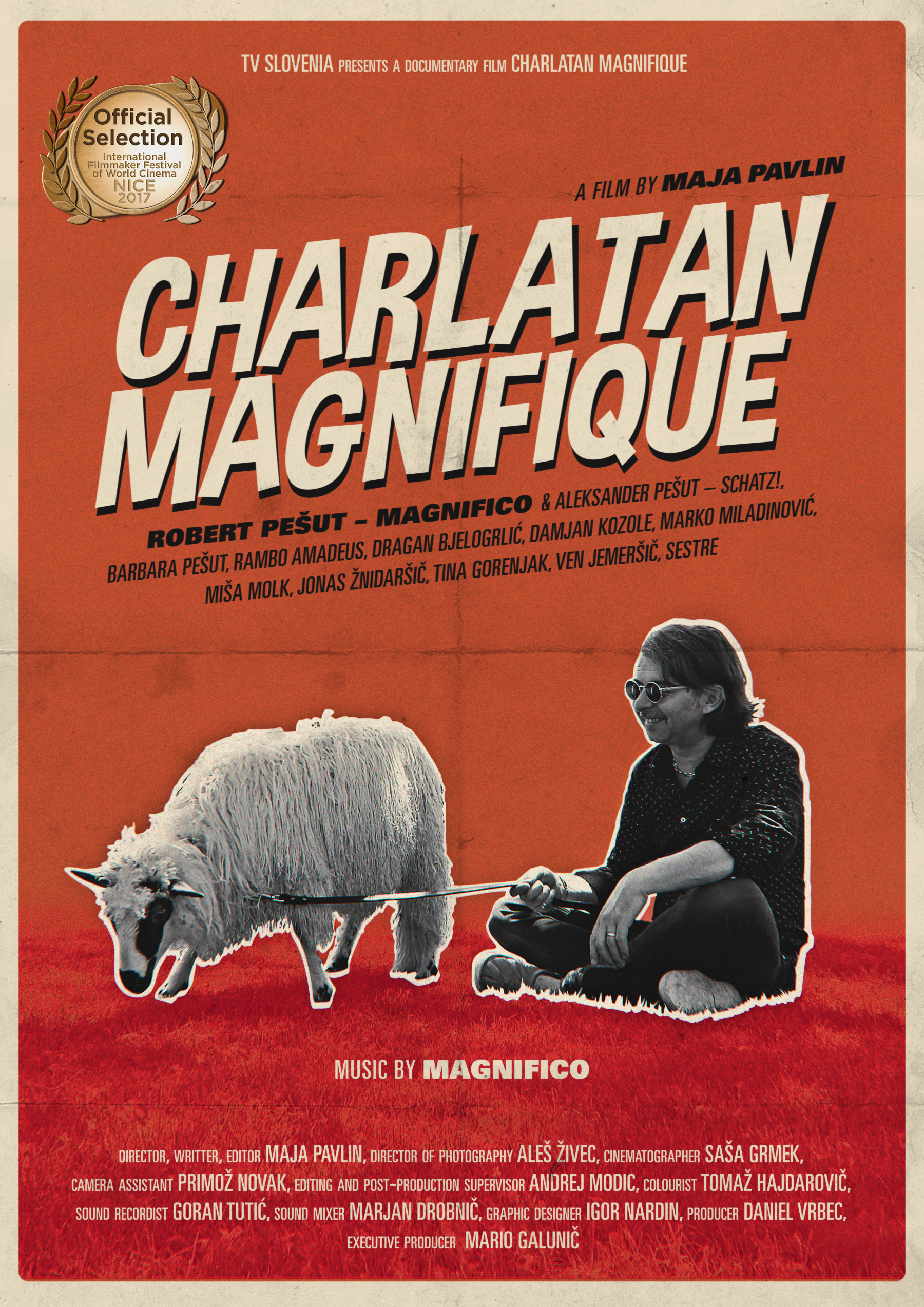 CHARLATAN MAGNIFIQUE, 2016
dur: 83:00
Screenwriter, director and editor MAJA PAVLIN
Director of photography ALEŠ ŽIVEC
Cinematographer SAŠA GRMEK
Camera assistant PRIMOŽ NOVAK
Editing and post-production supervisor ANDREJ MODIC
Colourist TOMAŽ HAJDAROVIČ
Sound recordist GORAN TUTIĆ
Sound mixer MARJAN DROBNIČ
Graphic designer IGOR NARDIN
Producer DANIJEL VRBEC
Executive producer MARIO GALUNIČ
Production: TV SLOVENIA
ABOUT DOKUMENTARY FILM CHARLATAN MAGNIFIQUE:
Documentary film about one of Slovenia's internationally most renowned and characteristic musician – MAGNIFICO.
Charlatan Magnifique is funny mix of great music, Balkan temperament, spontaneous and comic situations, and also comments of Magnifico and main characters in his life and career. It is a portrait of Slovenian musician with Serbian roots and worldwide fame. But most of all a portrait od a unique person …
Robert Pešut, working and creating under the pseudonym Magnifico, is an accomplished artist, known for his musicianship and hits, building on well thought but simple lyrics full of self-irony and humour. His music enchants the public and most importantly helps overcoming taboos and prejudices.
»I'm a charlatan. I don't have a degree, I can't read music, but I compose movie scores. I figured that playing music is the highest level of charlatanism and para-science. It's made for people like me.« says Robert Pešut about Magnifico's success and musicianship, unparallel not only at home.
The movie draws out Magnifico's rich, colourful and successful career, which started in the late 80's. During his solo career he recorded many hits such as 24000 baci, Kdo je čefur, Halo, gospodična, Silvija and many more, the song Hir Aj Kam Hir Aj Go brought him international success and a music deal with the multinational record label Sony, his soundtrack for the movie Montevideo, Bog te video gained hymnal praise in Serbia.
Magnifico's friends Rambo Amadeus, renowned musician and philosopher, and Dragan Bjelogrlić, actor and director of the most successful Serbian film in the last 20 years (Montevideo, Bog te video), give special insight into his popularity in the Balkans.
Rambo Amadeus hits the nail on the head by saying: »Laziness is typical of the Balkan temperament. The Balkan temper can be defined as pathological laziness multiplied by pathological ambition. There's a huge discrepancy between effort and expected results.«